It's been a long and trying year. As we begin our descent into the holiday season, it makes sense to want to incorporate nutrition into your upcoming feasts. The National Onion Association has some yummy onion recipes that provide sound nutrition and flavor.
Make the most of your celebrations with yummy onion recipes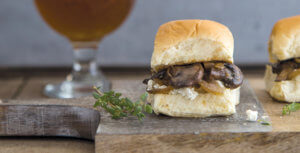 Let's start with Oktoberfest. That's a great time to celebrate. But it may be curtailed somewhat this year due to ongoing concerns of the Covid-19 pandemic. We say celebrate at home, with these great Maibock Mushroom, Caramelized Onion and Goat Cheese Sliders from Lori Rice, author of "Food on Tap: Cooking with Craft Beer." Maibock is a German spring beer dating back to the 13th Century. These sliders make a great starter to any Oktoberfest feast.
Next, you might as well start thinking about Thanksgiving. This great Roast Turkey Breast with Balsamic Caramelized Onions and Glazed Dried Cranberries recipe will make a great center of your table. Switching out the stuffing for caramelized onions is not only an easy way to save calories, but also a neat flavor twist to a traditional favorite.  For more Thanksgiving onion recipes, go to seriouseats.com for some great favorites.
For a few years now, we've advocated for this wonderful Turkey Spiral with Onion and Dried Cherry Stuffing as a Christmas dinner delight. The link
also will give you other sides and appetizers fit for a Christmas meal. Try our Onion Holiday Cooking recipes to bring out the flavor and nutrition in your meals.
Determining your food choices early may help you prepare early and avoid the holiday lines at the supermarket. The good thing with onions is they can store a long time without spoiling. Just put them in a clean, dry spot. But don't store them near potatoes. Fruitsandveggies.org states that while onions, potatoes and garlic are similar in their storage suggestions, storing potatoes near onions speeds up potato's ripening. That's why can't you store onions and potatoes together.
When you think holidays, put yummy onion recipes at the top of your list. They have tons of nutritional value without losing the flavor. They also help lower blood pressure, ease heart conditions and may reduce your chances of getting certain cancers.