The Instant Pot is technically a multi cooker. It does a huge variety of things and you'll find settings such as "Cake" and "Chili" on it for specific dishes. But most Instant Pot cooking is done through the pressure cooking function. So how does that work when you have a recipe where the onions need to be sautéed first? And how can you convert your favorite onion-filled recipes for Instant Pot when they're designed for the oven or stove?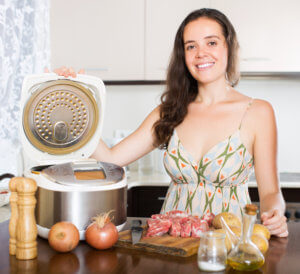 Good questions, no? Let's see if we can answer them.
Convert Onion Recipes for Instant Pot
First, here are some general guidelines for converting your stove top, oven, steamer, or slow cooker recipes for the Instant Pot.
Your Instant Pot Needs Water:
It can feel a little counterintuitive to add water or liquid to a dish, but if you're planning on cooking with the Instant Pot, it's essential to have some liquid in the pot.
For example, this Cornish hen Instant Pot recipe requires you to add half a cup of chicken stock before pressure cooking. Otherwise, you risk not cooking the food properly. The Instant Pot uses pressure cooking, which means generating steam (from the liquid you must add)  to cook the food thoroughly.
So, for example, if you've got a stew and you're converting the recipe for the Instant Pot, it's a good idea to add another half cup of water in before sealing the lid and beginning to cook. Not adding water may reduce the stew more than you would like, upsetting the delicate balance of flavors you carefully created with your onions and other ingredients.
Cooking Times:
Adjusting the cooking time totally depends on what you are cooking. For example, delicate cuts of meat will cook extremely quickly in the Instant Pot, whereas tougher cuts of meat (such as diced beef for a stew) will take a little longer.
A good rule of thumb for most dishes is to use the Manual/Pressure setting on High Pressure and cut the cooking time by two thirds. 
But before you get to that point, you usually have to sauté your onions first, right?
How to Caramelize Onions quicker
One of the best features of the Instant Pot is the ability to cook dishes all from one pot. That means no more messing about with multiple pots and pans when your recipe calls for multiple cooking stages. It also means less clean up when you're finished cooking!
So when it comes to "sweating" your onions before adding the rest of your ingredients, it's as easy as switching functions on the Instant Pot.
For example, this Caramelized Onion and Corn Soup calls for, you guessed it, caramelizing the onions before continuing on to make
the rest of the soup. In this recipe, the onions are sautéed for around 10 minutes before adding sea salt and sautéing for another 10 minutes. In the Instant Pot, you'll take basically the same steps but it will take far less time. First, you'll add the half-moon chopped onions, oil, and butter into the pot. Then you simply cook on high pressure for around 5 minutes. Now that your onions are caramelized it's as simple as proceeding on with the rest of the recipe, all within the same pot. 
Add in the rest of your ingredients (lemon juice, black pepper, water, and corn) before sealing the lid and cooking on high pressure again for another 5-10 minutes, depending on how much you would like the soup reduced.
After that, it's as straightforward as transferring everything to the blender just like you normally would!
Find the easy sauté function
The traditionalists among us might not like the idea of skipping the sauté step in our onion recipes. And that's absolutely fine! The Instant Pot has its own sauté function and you can use it just like you would a shallow pan.
To sauté with the Instant Pot, you simply hit the Sauté button and choose low, medium, or high for your temperature. Once it has reached the required heat, you can begin to sauté as usual.
Many Instant Pot recipes call for sautéing ingredients before progressing onto the next stage of the recipe which might require sealing the lid and using the Manual/Pressure function. Some might not call for onions, but you shouldn't be afraid to add them now you know what you're doing!
For example, this delicious Instant Pot chicken recipe doesn't list onions, but it does use the Sauté function at the beginning. The perfect opportunity to deepen the taste with a handful of onion!
Onion Recipes That Won't Work in the Instant Pot
Unfortunately, fried food and the Instant Pot are not a good mix. You should never attempt to deep fry in the Instant Pot. So, onion rings may be out. However, you can get attachments for the Instant Pot that allow you to air fry to achieve a nice crispy texture. Problem solved!