For many people managing diabetes with diet is crucial — and easy. Nutrient-rich options to help control blood sugar while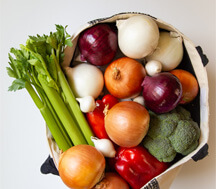 tasting amazing are equally important! Onions naturally help your health in so many ways, including helping manage diabetes with diet. Onions have a unique combination of three families of compounds that are believed to have salutary effects on human health – fructans, flavonoids and organosulfur compounds. The organosulfur compounds have been shown to reduce diabetes. Additionally, the compounds in onions have been shown to reduce certain cancers, heart conditions, osteoporosis, and promote healing in stomach ulcers. So eat up!
Prep your kitchen to manage diabetes with diet
Here is a basic guide of the best foods for a diabetic-friendly kitchen:
 – Whole grains, such as brown rice, oatmeal, quinoa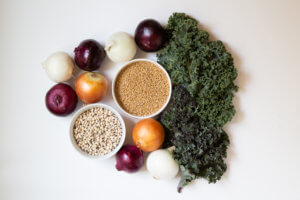 – Baked potato – sweet and white
– Products made with whole grains, and minimal sugar
– Fresh vegetables – raw, steamed, roasted, grilled or microwaved
– Frozen veggies without added sauces
– Salads and greens – opt for all natural yogurt based dressings
– Canned vegetables – look for low sodium options
– Fresh fruit
– Light beer or small amounts of wine as permitted by physician
– Unsweetened frozen fruit
– Canned fruit without added sugar
– Beans, nuts, seeds and tofu
– Fish and seafood
– Chicken, turkey, lean beef and pork
– Eggs
– Low-fat dairy – milk, low sugar yogurt, cheese
– Canola and olive oil
– Sparkling water or unsweetened tea
– Coffee with low-fat milk; sugar substitute such as stevia or monkfruit.