Think you can't have a healthy Thanksgiving dinner this year amid a Covid-19 dent in your plans?  Why not tackle dinner on your own for the first time? You can still enjoy a nice, intimate dinner with all the trimmings, and maybe a new twist on some old favorites to add an immunity building theme to the table.
According to Eatingwell.com, smaller gatherings will likely be the norm this year. The number of new cooks making Thanksgiving dinner is expected to rise quite a bit due to the pandemic. In fact, the online magazine reports a 108% increase in views for recipes for beginner cooks, and they will likely "be open to experimentation and new traditions."
Onions bring nutrition and flavor to any meal
When you add onions, it comes with great nutritional value and amazing flavor. But there are still many young and older cooks out there who only know what they like, regardless of health value. That's because Thanksgiving carries a tradition of good comfort foods and bringing families closer. In this new reality, that is changing. Many are looking to boost their immunity by eating good food to protect themselves against not only Covid-19 but other viruses and bacteria. Staying healthy through eating right has become a new imperative.
Onions — Nature's Ninja — are packed with nutrition and nutrients that not only help the body fend off heart conditions, disease and cancers, but they can help maintain a healthy gut. Onions are particularly rich in prebiotics, which help increase the number of friendly bacteria in your gut to build immunity from viruses such as COVID-19, most recently known as the coronavirus scare. And, they're loaded with Vitamin C.
We think a new tradition — adding onions  — can easily help cooks keep nutrition at the forefront of their Thanksgiving feasts while not sacrificing flavor. In fact, you may think Thanksgiving is tastier than ever. And, they might even make your list of best Thanksgiving recipes in the future.
A healthy Thanksgiving is as easy as adding onions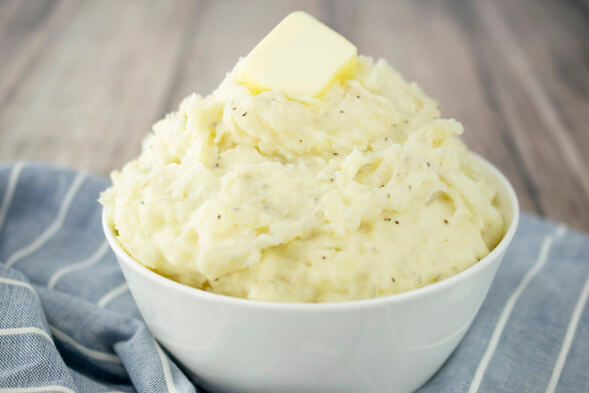 Take mashed potatoes. Mashed potatoes have always been simply potatoes, milk and butter. Most of us grew up with the lumps or no lumps debate at the dinner table. But you can kick that traditional dish up a notch and surprise your guests with great flavor they wouldn't normally expect — especially if you're a new cook.
Speaking of easy Thanksgiving side dishes
Our Roasted Onion and Garlic Mashed Potatoes dish adds the immunity-building and disease-fighting power of the onion, with a kick of sour cream instead of milk that should add yet another twist to your traditional expectations. Like many of us, you probably make your mashed potatoes last so they can be served hot. But this dish adds in the step of roasting the onions for 45 minutes, which could make space in your oven at a premium. Try this hack: Roast the onions early and have them on hand for the moment you make the potatoes, which will save up oven space and still allow you to serve them warm.
Another couple of healthy Thanksgiving sides also could help out your menu. Forego your traditional stuffing and serve your turkey on a bed of caramelized onions for a great flavor twist. There will be fewer carbs, and a great crunch to add to your meat. Try this recipe for Roast Turkey Breast with Balsamic Caramelized Onions and Glazed Dried Cranberries.
Here is a super easy recipe for dinner rolls. Just find some frozen bread doughs, cover with diced onions and bake.  These Easy Onion Rolls cook up in 30 minutes and makes enough for leftovers in a small party.
You can add onions into your sweet potatoes for another twist on tradition. The best part of this Sweet Potatoes with Onions and Cranberries recipe is you can cook them ahead of time and reheat in time for dinner.
If you're looking to get fancy, this Turkey Spiral with Onion Dried Cherry Stuffing will certainly perk up your plating, but it
does require more steps. If you're tired of the same old turkey, try this one.
There are tons of Thanksgiving ideas out there
Here are some other ideas others have come up with to add a twist to your Thanksgiving menus.
https://cooking.nytimes.com/recipes/1021608-turkey-thighs-with-pickled-cranberries-and-onions-for-two
Taste of Home has a great section on Thanksgiving for Two here. Here's another set of ideas for small Thanksgiving dinners from Martha Stewart