Roast Turkey Breast with Balsamic Caramelized Onions and Glazed Dried Cranberries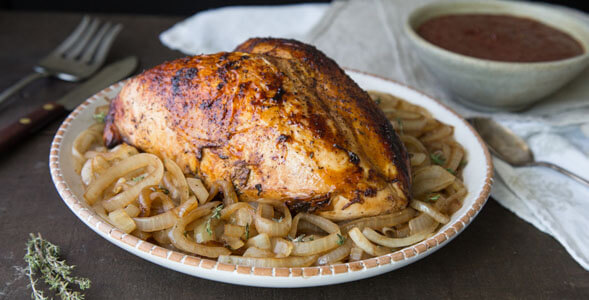 Ingredients
1 7 pound whole turkey breast or 2 half-breasts (about 3-1/2 pounds each)
7 tablespoons balsamic vinegar (divided)
4 teaspoons rosemary, crushed (divided)
4 teaspoons thyme, crushed (divided)
1-1/2 teaspoons salt
3/4 teaspoon ground black pepper
6 medium yellow onions (about 3 pounds)
2 tablespoons olive oil
Glazed Dried Cranberries (recipe follows)
Parsley or other fresh herbs (optional)
Directions
Preheat oven to 350 degrees.
Rub turkey on all sides with 2 tablespoons balsamic vinegar. Sprinkle all sides with 3 teaspoons each rosemary and thyme. Sprinkle with Sprinkle with 1 teaspoon of salt and ½ teaspoon of pepper. Place in roasting pan and roast at 350 degrees for 1-1/2 hours or until a meat thermometer registers 165 degrees. Halfway through roasting time, baste with 2 tablespoons vinegar.
Meanwhile, halve and slice onions. In 12-inch skillet over medium heat, sauté onions in oil for 15 to 20 minutes, stirring occasionally, or until soft and light golden. Stir in 1 teaspoon each rosemary and thyme, 3 tablespoons balsamic vinegar and salt and pepper to taste.
To serve, make a ring of onions on platter. Place turkey in center and top with a spoonful of Glazed Dried Cranberries. Pass remaining sauce. Garnish with parsley or fresh herbs, if desired. Makes 10 servings.
Glazed Dried Cranberries: In a medium saucepan, combine 2 (5 ounce) packages dried cranberries with 1-1/2 cups undiluted frozen fruit punch or orange juice concentrate and 1-1/2 cups water. Bring to a boil over high heat, then reduce and simmer uncover for 5 minutes. Whisk 2 tablespoons cornstarch with 2 tablespoons balsamic vinegar and stir into sauce. Heat briefly, stirring until thickened and glossy. Puree in blender for a smooth sauce, if desired. Makes 3 cups.
Special notes
Per serving: About 867 cal, 94 g pro, 54 g carb, 29 g fat, 30% cal from fat, 229 mg chol, 196 mg sod, 4 g fiber.