Attractive, well lit, and easy to access onion displays full of onions are visually attractive to consumers. Since we eat with our eyes first, a few simple merchandising tips can help make the most of a display space in the produce department and help maximize onion category profit margins.
Merchandising Tips: Building Onion Displays with Appeal
Loose or Bulk Displays:
Onions should be placed, not dumped into the display.

Placement should be tops up and root end should be down.

Remove loose skins, damaged, or decayed onions routinely.

Maintain proper stock rotation, placing newest onions on bottom, older on top.
Bag or Box/Carton Displays:
Stack neatly. Packs or cartons must be easy to remove for purchase.

Small mesh bags in 3, 5, or 10 pounds should be at or near waist level and arranged in an attractive manner no more than 2-3 bags deep on a table.

Include small bags of pearl and boiler onions to build specialty onion sales.
Value-added Displays:
Value-added fresh-cut and frozen products like whole peeled or diced onions are convenient and appealing to consumers. Let customers know where to find these items.

Always follow processors sell-by dates and discard any out of date product.

Keep refrigerated and frozen shelves stocked and fronted.

Maintain proper refrigeration, humidity, and cooler temperatures to reduce shrink.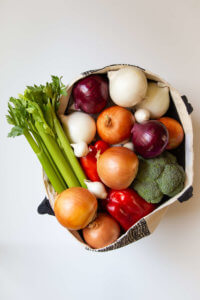 General Display Reminders:
Be familiar with the seasonality and best uses for the types of onions available.

Maintain proper signage when multiple colors, types, and sources of onions (domestic and imports) are offered and especially when seasons overlap.

Distinguish between domestic and imports.

Establish consistent year-round pricing gaps among offerings, setting premium prices according to seasonality, type, etc.

Onions on ad sell more rapidly than onions not on ad! Promote them several times a quarter to lift volume, dollars, and profits.
Cross Merchandising with Purpose
Yellow, red, and white onions display well with lots of other produce items like: pre-packaged salads, tomatoes, cucumbers, bell and chili peppers, oranges, mangos, celery, and carrots. Colorful, multi-item displays can be built around a season, holiday, or special events.

In a study, 50% of consumers interviewed that purchased pre-packaged salads also purchase onions.

Perishable protein including beef, pork, chicken, or seafood may be more challenging to cross-merchandise with onions in-store, but are very effective together for advertising.

Non-perishables that pair well with onions might include seasonally appropriate items like tin foil, bamboo or metal skewers, roasting bags, and slow cooker liners.

Onion keepers, micro-cookers, knives, and cutting boards are essential kitchen tools, but are impulse buys that can be effectively worked into or near the onion display.
Promotions with Layers of Benefits
Onions can be included in nutrition and health promotions as well as seasonal, holiday, and special events. For example: onion dips and salsas for Super Bowl, Cinco de Mayo and other parties, onions for burgers/kebabs during BBQ season, recipes featuring onions as a vegetarian main dish or an alternative to other vegetable side dishes for any day of the week or a holiday.

Consumers are spending fewer dollars on food but more of those dollars on produce. Techniques for using produce and recipes are ideal for continuing this momentum.

As the healthiest square footage of a supermarket, the benefits of fruits and vegetables are best communicated through signage and other printed collateral.

Onions are nutritionally important and have a number of ways they can be prepared.