The quality and safety of onions depends on proper handling and storage. Fresh market retail processing can affect the flavor and quality of the onions people take home.
Always follow proper handling procedures and safe handling guidelines as outlined by the Food and Drug Administration Food Code. Read and follow handling instructions on all processed products according to the manufactures label.
Basic Storage & Handling Tips for Dry Bulb Onions:
Always handle onions with care. Do not drop onions as this often causes bruising and internal decay.

Bagged or boxed onions should be stored at least one foot away from walls and other pallets to allow proper air movement.

Keep stacks of bags or boxes at five feet or less.

Store onions in a cool, dry, well-ventilated area.

Maintain storage temperature of 45-55°F.

Do not wrap onions in plastic or store in plastic bags. A lack of air circulation will reduce shelf life.

Onions should feel firm and dry, be free of gray or black mold, and should not have any visible sprouting. Some loose skins are normal.

Do not store onions with potatoes or other produce items that release moisture.

Keep onions out of direct sunlight and other heat sources.

Cut onions will keep for several days if sealed in plastic bags or containers and refrigerated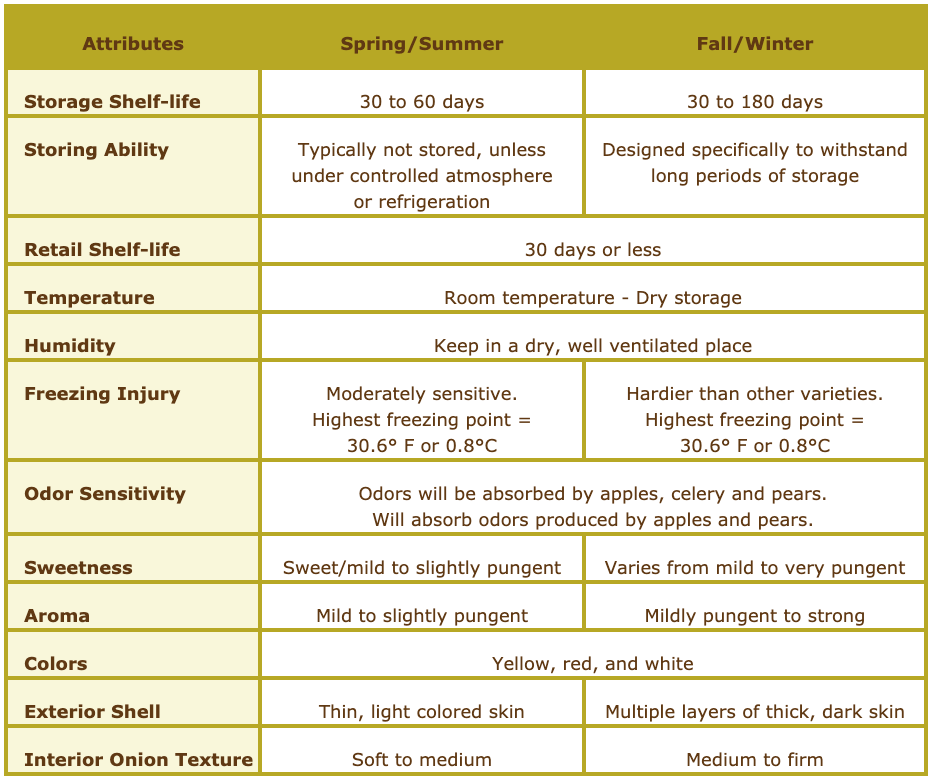 ---
Food Safety
In 2022 the U.S. onion industry proactively updated its voluntary commodity specific food safety guidelines for the dry bulb onion supply chain. This document serves as guidance for growers and shippers to adhere to best practices and regulations [i.e. Good Agricultural Practices (GAPs) and Good Manufacturing Practices (GMPs)] governing safe vegetable production. Many suppliers regularly test and monitor the aspects of their growing and distribution cycles, and they maintain records of those results for filing with the appropriate auditing agencies. This ensures that onions sent fresh for market retail processing are of the highest quality.
The industry supports government efforts to provide a strong food safety regulatory framework. This assures the public appropriate standards are in place and being met by the dry bulb onion supply chain.