Certified Delicious recognizes chefs and restaurants across the country that have been identified by the National Onion Association's culinary team as serving fresh, delicious meals with onions.
French Onion Soup
French Onion soup is one of the oldest onion dishes that started out as a peasant's meal but turned into a delicacy. We celebrate the truly delicious dishes that are made with flair and creativity, and always with fresh onions.
1323 Greene St, Silverton, CO 81433
Country French Onion Soup: Hot, savory onion soup topped with croutons and mozzarella
4700 E. Cherry Creek South Drive, Glendale, CO 80246
Nana's French Onion Soup: Caramelized onions, beef jus, country bread, Gruyere cheese, topped with onion strings 

26 E. Bay St., Savannah, GA 31401
French Onion Soup: sweet onions, gruyere, French bread
Onion Rings
Too many restaurants rely on frozen onion rings. We celebrate onion rings that are melt-in-your mouth fresh.
Maggie's Kitchen
This restaurant serves 350 servings of its beer-battered onion rings a day!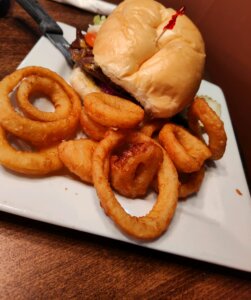 1331 Eagle Drive, Loveland, CO 80537
115 E 17th St., Cheyenne, WY 82001
Criteria for Certified Delicious Designation:
Restaurants and/or dish must be spotted/submitted by a member of the National Onion Association culinary team.
No restaurant/chef solicitations are allowed; no restaurant may buy their way into the program.
Onions used in dishes are plentiful and fresh; no frozen onions or pre-prepared foods are allowed.
Menu items must be regular or established on the menu; no specials or one-offs.
Only U.S. restaurants are eligible for awards.