When you are looking to improve your overall nutrition, don't count out the amazing onion. Here are some solid health benefits of onions you need to know when looking to improve overall nutrition or help prevent chronic diseases.
Flavanoids are great health benefits of onions
Onion bulbs are among the richest sources of dietary flavonoids and there are two subgroups of particular interest.
The anthocyanins, which provide a red/purple color to some varieties and flavanols such as quercetin, which is responsible for the yellow and brown skins of other onion varieties. Quercetin is in all varieties of onions. Flavonoids are antioxidants. They scavenge particles in the body known as free radicals which damage cell membranes. They may reduce or even help prevent some of the damage free radicals cause. A great deal of research has focused on quercetin, which is found at particularly high levels in onions. Studies have shown quercetin to protect against heart disease and several types of cancer with its antioxidant and anti-inflammatory activities.
2. Inulin is a soluble dietary fiber found in onions Inulin is a naturally occurring oligosaccharide belonging to a group of carbohydrates known as fructans. Inulin appears to exhibit several health promoting functions, including the promotion of healthy gut bacteria. Inulin is a prebiotic and helps maintain gastrointestinal health by sustaining (feeding) beneficial bacteria. Like other fibers, inulin aids digestion and prevents constipation. Inulin also may help manage blood sugar levels and is being studied in relation to improved calcium absorption. NOTE: Although many consumers rely on fiber supplements, recommending a high-fiber diet that includes onions is best to obtain the benefits of the additional nutrients in whole foods. p12 Onions – Layers of Flavor and Nutrition The amazing onion provides layers of flavor, color, and texture to a wide variety of dishes and cuisines. In addition, the onion is a superfood that provides significant nutrients and health benefits.
Think of your heart the next time you eat onions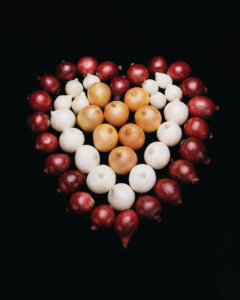 Onions my help reduce the risk of heart disease University of Wisconsin-Madison researchers found pungent onions exhibit strong anti-platelet activity. The organosulfur compounds, largely responsible for the taste and smell of onions (and garlic), have shown anti-inflammatory and anti-thrombotic activity. Platelet aggregation is associated with atherosclerosis, cardiovascular disease, heart attack, and stroke. TIP: To reduce the pungency, sharpness or aftertaste of a raw onion, cut them the way you plan to use them, then place them into a bowl of ice water to stand for 1-1/2 hours before draining. If time is at a premium, place onions in a strainer or sieve. Run cold water through onions for at least a minute.
4. Allium vegetables, like onion, contain cancer – preventive agents. The protective effect appears to be related to the presence of organosulfur compounds and mainly allyl derivatives, which inhibit carcinogenesis in the forestomach, esophagus, colon, mammary gland, and lungs of experimental animals. The exact mechanisms of the cancer-preventive effects are not clear, although several hypotheses have been proposed and more research is needed.
5. And more… Studies on the health benefits of onions and their unique nutritional properties also have shown possible links to the inhibition of gastric ulcers by scavenging free radicals and by preventing growth of the ulcer-forming microorganism, Heliobacter pylori. A recent study also suggests onion consumption has the potential to reduce the risk of osteoporosis by inhibiting bone resorption. And finally, the organosulfur compounds in onions appear to exhibit antimicrobial activity, which may have some food safety benefits. Research will continue to clearly identify health benefits from onion consumption in the human diet.