So it's 2021, and you've seen enough of the pandemic to convince you to eat right. But if you're wondering how to get 5 servings of vegetables a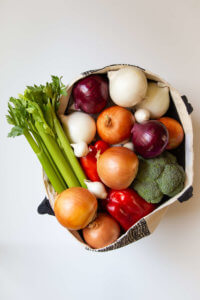 day, we have one simple answer: salads. You can tick off quite a few of your daily vegetable needs with one healthy salad a day. You can turn to onions-usa.org to find many tasty salad recipes.
At first, that general recommendations for 5-9 servings of vegetables a day can sound daunting. That's the magic number for proper nutrition, but it seems to convey the unappealing image shoving vegetables down at every meal with no variety. But consuming the proper amount will keep you healthy, build your immunity, and make you feel better in general.
Add small servings of several vegetables to get a great meal
You don't have to worry about bagging up your carrots or celery sticks to add to lunch every day – unless you want to. You don't even have to put TWO vegetables on you dinner plate – unless you want to.  It's super easy to stuff all that fiber and roughage into one tasty salad. Adding onions to your salad will increase your body's chances of fighting off bugs. One onion contains 20 percent of your daily Vitamin C needs and 12 percent of your daily fiber needs.
How much is a serving of vegetables, you ask? Most serving guides show that most vegetables servings are in half-cup sizes. A serving of leafy greens is one full cup. Just add a half cup of four of your favorite vegetables to one cup of leafy greens.  As an example, start with one full cup of lettuce, your choice. Add a half cup of cucumbers, a half cup of diced onions, a half cup of carrots, and a half cup of red pepper. There's five.
Or better yet, make that two cups of leafy greens, you've got six already. Add a half cup of diced or sliced apples. That makes seven. Add a quarter cup of raisins – that's eight servings right there in one meal.
Keep experimenting. You can never go wrong with adding bite size bits of your favorite veggies to a healthy salad for lunch or dinner.
Better yet, make up a tub of your favorite blended salads on a Sunday, and dip into it daily throughout the week.
We've found that to be any easy shopping haul of one bell pepper, one onion, one cucumber, a small bag of shredded carrots, and one head of lettuce a week. Any more than that may not last so long in your fridge. But one of each of your favorites should suffice for a week. That way you'll always be on track to get at least 5 servings a day into your diet.