Traditional Christmas feasts typically use onions as a side dish. But to get the most nutrition and flavor out of your meals, we suggest you find a way to incorporate Christmas onion recipes into your celebration. We've assembled a few for you here. They not only include onions but other healthy additions for flavor and nutrition. If you want to try something different this year, recipes with The Onion — Nature's Ninja, will surely surprise and delight your family and guests.
Christmas onion recipes you can get behind
Turkey Spiral with onion and dried cherry stuffing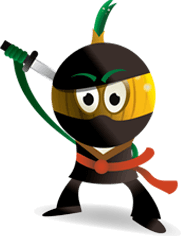 Ingredients
6 tablespoons butter, salted
1/2 cup diced celery
1 cup diced yellow onions
1/2 cup diced mushrooms
1/2 teaspoon salt
1/4 teaspoon pepper, ground
1-1/2 teaspoons minced garlic
4 cups diced day old bread
1-1/2 teaspoons minced fresh sage
1-1/2 teaspoons minced fresh rosemary
1-1/2 teaspoons minced fresh thyme
1/4 cup minced fresh parsley
1/8 teaspoon celery seed
1/3 cup hazelnuts, toasted, chopped
3/4 cup dried tart cherries, coarsely chopped
1/2 cup turkey or chicken broth
2 large eggs, beaten
1 whole turkey breast, bone in (5 – 6 pounds)
2 tablespoons butter, salted, melted
Directions
In heavy saucepan over medium heat, sauté first set of ingredients for 7 to 10 minutes until just beginning to brown. Add second set of ingredients, and sauté for 5 more minutes. Remove from heat. Add broth and eggs, stirring well to combine. Set aside until cool enough to handle.
Bone out turkey breast lobes, keeping skin intact. Lay each lobe onto work surface, skin side down. Cutting from where center breast bone was, butterfly breast open (slice turkey breast horizontally, not all the way through). Open up butterflyed turkey breast, keeping skin side down, and pound lightly to even thickness to 1 inch. Divide stuffing mixture in half and place on flesh side of each turkey breast lobe. Spread mixture evenly and pat into place. Roll up the turkey breast, jelly roll style, so that the skin ends up on the outside of the roll. Repeat with other lobe of turkey breast.
Place each turkey spiral onto a large piece of aluminum foil. Brush turkey with melted butter. Tightly seal turkey breast in foil. Place foil wrapped spirals onto baking sheet and bake in a 375 degree oven for 30 minutes. Open up foil to expose top of spiral and baste with accumulated pan drippings. Return to oven and bake for another 30 to 45 minutes basting occasionally, until internal temperature reaches 165 degrees.
Remove from oven and let rest 10 minutes before slicing. Then slice into 1/2-inch slices and serve. Makes 12 servings.
Special notes
Per serving: About 281 cal, 29 g pro, 14 g carb, 12 g fat, 38% cal from fat, 127 mg chol, 336 mg sod, 1 g fiber.
---
Roast Turkey Breast With Balsamic Caramelized Onions And Glazed Dried Cranberries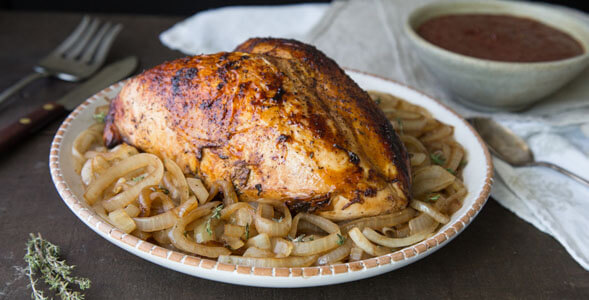 Ingredients
1 7 pound whole turkey breast or 2 half-breasts (about 3-1/2 pounds each)
7 tablespoons balsamic vinegar (divided)
4 teaspoons rosemary, crushed (divided)
4 teaspoons thyme, crushed (divided)
1-1/2 teaspoons salt
3/4 teaspoon ground black pepper
6 medium yellow onions (about 3 pounds)
2 tablespoons olive oil
Glazed Dried Cranberries (recipe follows)
Parsley or other fresh herbs (optional)
Directions
Preheat oven to 350 degrees.
Rub turkey on all sides with 2 tablespoons balsamic vinegar. Sprinkle all sides with 3 teaspoons each rosemary and thyme. Sprinkle with Sprinkle with 1 teaspoon of salt and ½ teaspoon of pepper. Place in roasting pan and roast at 350 degrees for 1-1/2 hours or until a meat thermometer registers 165 degrees. Halfway through roasting time, baste with 2 tablespoons vinegar.
Meanwhile, halve and slice onions. In 12-inch skillet over medium heat, sauté onions in oil for 15 to 20 minutes, stirring occasionally, or until soft and light golden. Stir in 1 teaspoon each rosemary and thyme, 3 tablespoons balsamic vinegar and salt and pepper to taste.
To serve, make a ring of onions on platter. Place turkey in center and top with a spoonful of Glazed Dried Cranberries. Pass remaining sauce. Garnish with parsley or fresh herbs, if desired. Makes 10 servings.
Glazed Dried Cranberries: In a medium saucepan, combine 2 (5 ounce) packages dried cranberries with 1-1/2 cups undiluted frozen fruit punch or orange juice concentrate and 1-1/2 cups water. Bring to a boil over high heat, then reduce and simmer uncover for 5 minutes. Whisk 2 tablespoons cornstarch with 2 tablespoons balsamic vinegar and stir into sauce. Heat briefly, stirring until thickened and glossy. Puree in blender for a smooth sauce, if desired. Makes 3 cups.
Special Notes
Per serving: About 867 cal, 94 g pro, 54 g carb, 29 g fat, 30% cal from fat, 229 mg chol, 196 mg sod, 4 g fiber.
---
Savory Holiday Dinner Rolls
Description
These simple homemade rolls are made with rich sweet potato and studded with finely chopped onions, and are one of the perfect Christmas onion recipes. A touch of fresh rosemary gives them a savory flavor to balance the slight sweetness. They bake into a tender roll we're certain no one at the table will be able to turn down.
Ingredients
Makes: 12 rolls
Prep Time: 20 minutes, plus 1 hour 15 minutes for the dough to rise
Bake Time: 30 minutes
Ingredients
¾ cup warm water (105 to 110 degrees F)
2 ¼ teaspoons active dry yeast (1 packet)
1 tablespoon honey
3 cups unbleached all-purpose flour*
1/3 cup sweet potato puree (about 1 small sweet potato)
1 large egg
1 teaspoon fine sea salt
¼ teaspoon finely chopped fresh rosemary leaves
1 cup finely diced yellow onion (about 1 large onion)
Olive oil to coat the bowl
1 tablespoon softened unsalted butter
Directions
Preparation
Add the yeast to the warm water. Stir in the honey. Let sit until the yeast blooms, about 5 minutes.
Add 1 cup of flour to the bowl of an electric mixer fit with the dough hook attachment. Pour in the bloomed yeast and liquid. Mix on low, scraping the sides of the bowl as needed. Add the sweet potato puree and the egg. Mix well until all ingredients are combined. Add the salt and rosemary.
Add another cup of flour. Mix in the onion. Add the remaining flour a ½ cup at a time and continue to mix on medium-low until a dough comes together into a ball in the center of the bowl. Continue to mix for another minute.
Turn the dough out onto a floured surface and knead for 5 minutes, until smooth and elastic. Form into a ball. Coat a large bowl with olive oil and place the dough in the bowl. Cover with a dish towel and let rise in a draft-free place until doubled in size, about 1 hour.
Punch down the dough. Knead it back into a ball on a floured surface and cut into 12 equal pieces. Form the pieces into rolls. Place in a greased baking dish about 8-by-10-inches.
Preheat the oven to 375 degrees F. Place the baking dish on the stove while the oven heats, and cover with a clean dish towel. Let rise for 15 minutes.
Bake for 25 to 30 minutes, until the rolls are golden brown and baked through. Remove from the oven and brush with the softened butter. Serve warm or at room temperature.
Special Notes
*More or less flour may be needed as many factors, such as the environment, can affect bread dough. If the dough appears too sticky to work with, add a little more flour a tablespoon or two at a time. If it becomes too dry and won't stick together, add water a teaspoon at a time.
---
And what is a great Christmas meal without some sweets? These Cranberry Onion tarts will tease your tastebuds with the complementary tastes of tart cranberries and the sweetness of sautéed onions! They are sweet enough to be served with cheeses and wine to end a meal, and savory enough to enjoy as a starter for a special dinner or snack for a holiday open house.
Cranberry Onion Tarts
Ingredients
Crust
1 cup unbleached all-purpose flour
1/2 teaspoon sugar
1/4 teaspoon fine ground sea salt
1/2 cup cold unsalted butter, cubed
3 tablespoons ice cold water
Filling
2 tablespoons extra virgin olive oil
1 cup finely diced yellow onion
2 cups fresh cranberries
1/4 cup chopped pecans
3 tablespoons honey, or to taste*
1/4 teaspoon fine ground sea salt
1/8 teaspoon finely chopped fresh rosemary
Chopped rosemary for garnish, optional
Directions
Preparation time: 20 minutes
Cooking time: 45 minutes
Place the flour, sugar, and salt in the bowl of a food processor. Add the cold butter. Pulse in 10 second intervals until all ingredients are combine and crumbled. Add the water, one tablespoon at a time, and process on low until the a dough ball forms in the bowl, about 20 seconds. Transfer the dough to a sheet of plastic wrap. Wrap and place in the refrigerator for 15 to 20 minutes.
Preheat the oven to 375 degrees F.
While the dough chills, make the filling by heating the oil in large skillet over medium-high. Add the onion, cook until it softens and begins to brown, about 10 minutes. Add the cranberries. Cook until they begin to burst and shrink, about 3 minutes.
Stir in the pecans and cook 1 minute. Remove the skillet from the heat and stir in the honey, salt, and rosemary.
Remove the dough from the refrigerator. Roll on a floured surface to 1/4 to 1/3-inch thickness. Cut the dough into 6, 3 1/2 to 4-inch circles. Place each circle of dough into the slot of a 6-cup jumbo muffin tin. Gently press and spread the dough so that it fits into the bottom of the muffin tin and the edges reach about 1/2 way up the side.
Fill each crust with an equal amount of the cranberries and onions. Bake for 28 to 30 minutes, until the crust is golden brown and the filling is bubbling. Let cool for 5 minutes and then use a fork or knife to carefully remove the tarts from the pan. Sprinkle with chopped fresh rosemary, if desired. Serve warm or at room temperature.
*Fresh cranberries are tart. Be sure to taste a bit of the filling before transferring it to the crust. Add more honey, if desired.
Special Notes
Recipe and photography for the National Onion Association by Lori Rice.