You're used to spring summer onions, but as we head into fall and winter, you'll likely be noshing on the fall/winter onions.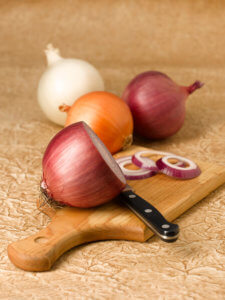 These onions are available from August through May, in yellow, red and white. You'll be eating storage onions, most likely, but these ninjas can lie in wait a long time before they even begin to lose steam.
Fall/Winter Onions Are:
Easy to recognize by their multiple layers of thick, darker colored skin.
Commonly lower in water content, they have a longer shelf-life.
Range in flavor from mild to pungent.
Best uses: Caramelized, roasted, fried or any dish with a longer cook time.
Check out of our Color, Flavor, Usage Guide to use the right onion for your next meals. 
Where are your fall onions coming from? Here's a guide:
California, Colorado, Illinois, Indiana, Iowa, Michigan, Minnesota, Nevada, North Dakota, New York, Ohio, Oregon, Utah, Washington, and Wisconsin.