That same old breakfast sandwich not doing it for you? We've got just the thing to shake up your morning routine and get a little nutrition in our morning groceries. Cooking with onions!  No dicing required.
Better Breakfast Month is a great avenue of cooking with onions
September is Better Breakfast Month, and we can't think of a better way to celebrate than by adding onions to your morning nosh.
Eating breakfast is considered one way to help you lose weight, according to Webmd.com. "Researchers have found that on average, people who eat breakfast are thinner than those who don't. That could be because eating foods with protein and fiber in the morning keeps your appetite in check the rest of the day," Webmd.com states in this article.
Most major diets are calling for higher protein content, and onions are a low-cal and nutritious addition to get your engine running right. So drop the cereal box already!
The Webmd.com article states: "Resist that pastry or doughnut, though. Your best bet is a mix of foods that have carbohydrates, protein, healthy fats, and fiber. Carbs will give you energy right away, and the protein will give it to you later on. Fiber keeps you feeling full."
This article from Time.com states that one of the healthiest breakfast includes scrambled eggs with veggies.
Onions can fit into every meal of the day
The National Onion Association has a couple of breakfast recipes out of our large list of onion dishes that will keep your motor running in the early morning.
One of our favorite breakfast recipes is called the Chipotle Egg Sandwich.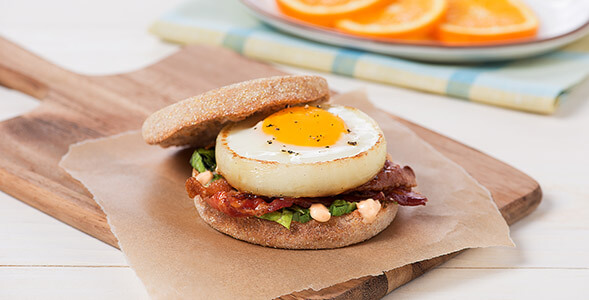 This hearty sandwich is a perfect way to keep your eggs perfectly round, by cooking your egg inside a ring of the onion.
This Onion and Egg Hash will keep you true to your Paleo diet.
It contains onions, sweet potatoes and cauliflower with eggs. It's low in calories and contains 16 percent protein, 26% fat, and 19 percent carbohydrates.
This Ranch-Style Breakfast Burrito with Two Onion Salsas is a crowd pleaser.
Take your pick on either the Avocado-Red Onion Salas or the Fresh Mango-Onion Salsa.
If you're needing other breakfast recipe ideas, we also found this group of 12 breakfast sandwiches to try. If you're still looking for ways to cook onions, throw a slice or two on for a great breakfast crunch!