It's hot outside and the last thing you want to do is heat up the house using the stove and onions. You still want to eat yummy and delicious food so the best way to feed everyone is with Picnic Perfect Salads.
Onions in the Raw: Picnic Perfect Salads
Continuing with our Onions in the Raw we've gathered some of our favorite Summer Salads fill some hearty appetites while keeping things light.  There's nothing more delicious than a fabulous salad with some raw onions.
Can you imagine the combination of red onions, feta and watermelon? This Watermelon Feta Salad fromSimply Stacie looks divine.  Especially with the addition of the pumpkin seeds.
This delectable Blue Crab Salad with Herb Vinaigrette from our dear friend Cynthia over at My Nourished Home is packed full of protein but light enough for a hot Summer day.
Get the best of both worlds when you make this Mango Salsa Pasta Salad from Bijoux & Bits.  As you know we love salsas and making a salad out of it is a huge win with us.
The moment we feasted our eyes on this beautiful Tangy Broccoli Slaw Salad with Blueberries from the folks over at Cotter Crunch we knew it would become a Summer Picnic favorite.
Peaches make any salad a tasty treat like this Summer Peach, Shaved Onion and Arugula Salad with Honey-Lemon Vinaigrette brought to us by Paleo Scaleo.
Its Yummi has reminded us of our favorite Summer picnic memories with this Farmer's Market Potato Salad.  Beautiful, fresh and you can get everything right from the local Farmer's Market or even your own yard!
When you bring delicious Kale and onions together that's a perfect match. The Minimalist Baker has this Kale Citrus Salad that looks incredible.
Farro, feta and onions are anther one of those delightful combinations.  This Feta Farro Salad from Goodie Godmother will be a hit at the next picnic.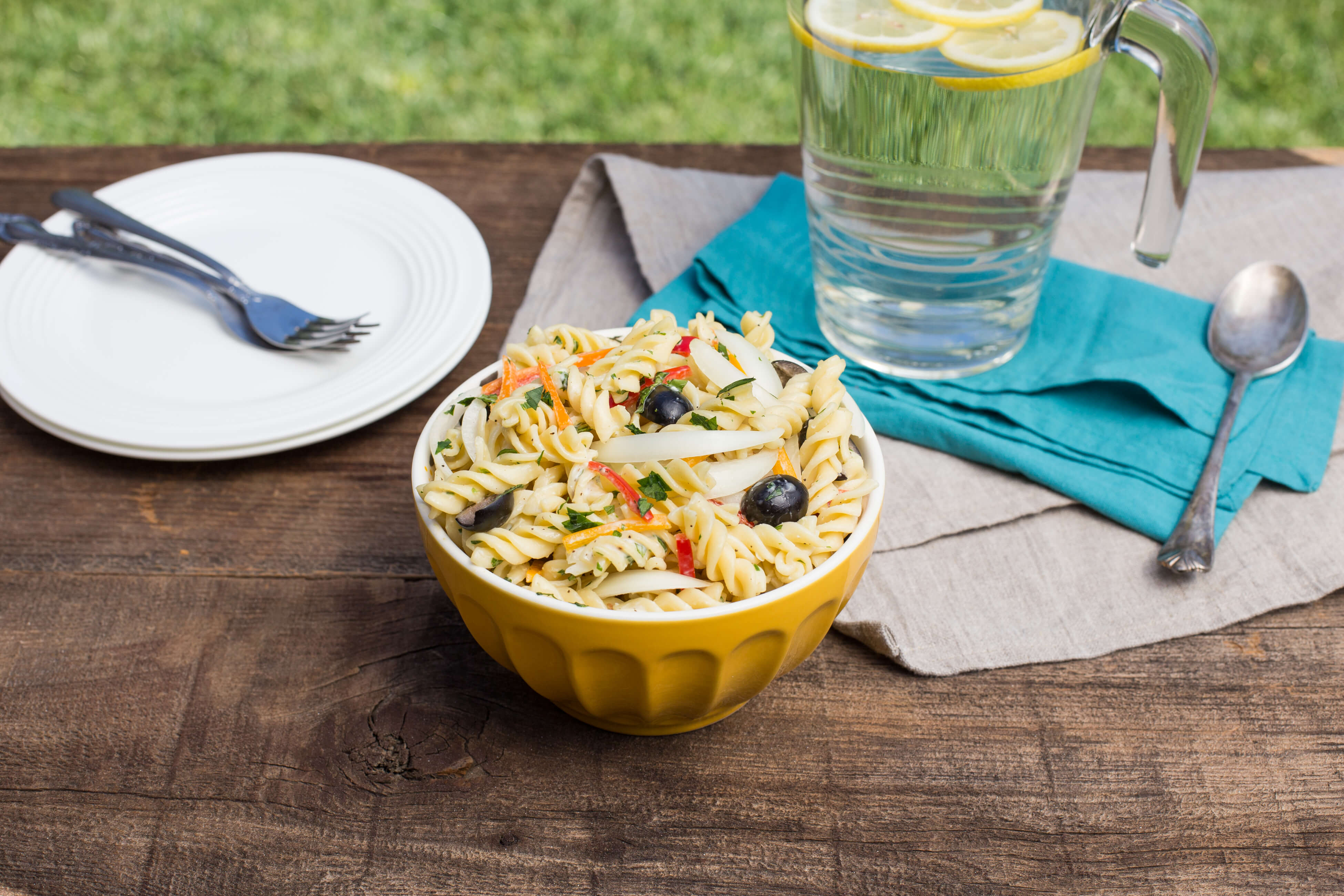 One of our very own delicious Summer Salads is this Sweet Onion Pasta Salad with Creamy Herb Dressing. It's a perfect salad for a picnic, side dish or a light lunch.
What is your favorite picnic salad? Are salads your go to on these hot summer days?