Hot temperatures call for shade, lemonade and minimal cooking. Backyard parties and picnics are in full swing this month and since we are having so much fun with the current series #OnionsInRaw, we elected (unanimously) to continue this theme for another month.  What is a get together without the perfect party sandwich.
Picnic and Party Sandwich Recipes with Onions
On the tails of our picnic perfect salad round-up last month, we thought it only natural to feature a few snack, party, picnic friendly sandwiches – all touting our favorite crisp, juicy, sweet flavored vegetable – in the raw!
From chilled to grilled these three sandwiches with amazing onions can make an ordinary lunch or snack a treat everyone will love.
Smoked Chicken Salad with Onions and Dried Cherries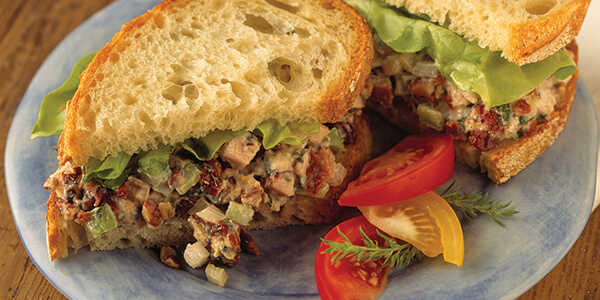 Here's how to make this Smoked Chicken Salad with Onions and Dried Cherries
4-1/2 cups diced smoked (or rotisserie style) chicken or smoked turkey.
1-1/2 cups diced celery
2-1/4 cups diced sweet onions
2-1/4 cups dried tart cherries, chopped
1-1/2 cups pecan pieces
1/2 cup basil, fresh minced
2 cups light mayonnaise
3/4 teaspoon salt
3/4 teaspoon black pepper, ground
1 teaspoon orange zest
3 tablespoons fresh orange juice
Place all ingredients in mixing bowl, stir gently until well combined. Refrigerate until ready to prepare sandwiches. To prepare as sandwiches, rustic bread works best. Assemble the sandwiches using 3/4 cup of chicken salad per sandwich. Top with bibb lettuce, slice each sandwich in half and serve. Can also be served as a salad in lettuce cups, which also work great for appetizers!  Makes 12 servings.
Smoked Salmon Sandwich with Lemony Mayonnaise
Let's make this Smoked Salmon Sandwich with Lemony Mayonnaise
1/2 cup mayonnaise
1 teaspoon lemon peel
2 teaspoons lemon juice
1 tablespoon fresh dill, chopped or dill weed (dry 1 teaspoon)
8 slices dark rye bread, buttered
Lettuce as needed
8 slices gold or red tomatoes, thinly sliced
8 ounces smoked salmon, sliced
1 cup sliced red or yellow onions
Mix mayonnaise with lemon peel, juice and dill. Assemble rye sandwiches with lettuce, tomato, salmon and onions stacked inside. Dollop with mayonnaise. Garnish with fresh dill sprigs, if desired. Makes 4 servings.
Hearty Onion-Veggie Sandwich
Putting together this Hearty Onion-Veggie Sandwich
2 packages (3 ounces each) fat-free cream cheese
18 slices multi-grain bread
1 large red onion (about 12 ounces), thinly sliced
1 cup sliced cucumbers, marinated in French dressing
12 crisp lettuce leaves
12 tomato slices
6 ounces thinly sliced cheddar cheese
1-1/2 cups alfalfa sprouts (optional)
Spread cream cheese evenly over 6 slices of bread. Top with half of the onion slices and all the cucumbers. Stack with lettuce leaves, sliced tomato and a second slice of bread. Lay cheddar over second bread slice, then add sprouts and remaining onions. Top with third slice of bread. Cut sandwiches in half and secure with picks. Makes 6 servings.
Lamb & Onion Feta Sliders
Here's how to make this Lamb & Onion Feta Sliders
1 cup fresh bread crumbs
1 teaspoon dried oregano leaves
1/2 teaspoon each ground cumin
1/2 teaspoon coriander
1/2 teaspoon each salt and pepper
1/4 cup milk
2 eggs
1-1/2 pounds ground lamb
12 slider buns
3 plum tomatoes, sliced
12 Feta cheese in thin slices
1/2 cup red onion, finely chopped
Oil and preheat grill to medium-high. Toss bread crumbs with the oregano, cumin, coriander, salt and pepper. Stir in milk and eggs; combine thoroughly. Combine ground lamb with bread crumb mixture until fully incorporated. Form mixture into 12 small (slider size) patties.
Place patties on the grill, cook for 4-5 minutes per side. Meat should cook to medium doneness (160°F) until no longer pink in center.
To serve: place patties on slider buns and garnish with tomato, Feta cheese and red onion.
Note: This recipe can also be made into regular burgers by dividing lamb mixture into 4 patties instead of 12 and using regular sized hamburger buns.
Makes 12 sliders or 4 regular size burgers.
What's your favorite sandwich to bring to a get together, pot luck or picnic? Raw onions always make any party sandwich the tastiest.