With our love for onions there are so many amazing dishes to enjoy.  Raw onions bring out the amazing flavors and body of our favorite onions.  One of the most enjoyable ways to experience the deliciousness of raw onions is sitting down to some of Our Favorite Summer Salsas.
Our Favorite Summer Salsas
Don't you just love enjoying a light salsa with one of your favorite chips on a hot Summer day? What about on game day? Bringing that perfect salsa to the party or potluck is a great way to be the talk of the party.  During the Summer months there are so many salsa variations.  You can go from sweet to spicy and anywhere in between.  We tend to really enjoy the Summer fruits, the citrus really compliments the onion flavors.
This Mango Salsa Pasta Salad from Bijoux & Bits is quite different from most Summer Salsas with the addition of the pasta.  It looks divine.  
This Grilled Corn Cherry Salsa looks perfect for a hot Summer day. We love the jalapenos Running to the Kitchen added.  
10 Minute Oklahoma Caviar Salsa is a super fast a yummy way to enjoy your favorite chips. Cookie Dough and Oven Mitt really put some fun stuff in this salsa.  
How fun and fresh does this Paleo Cherry Salsa from The Primal Desire look? 
Onion, avocado and mango all in one, YES please!  This Mango Avocado Salsa from Yes to Yolks is a delightful Summer Salsa.  
This traditional Fresh Tomato Salsa from Pretty. Simple. Sweet. is an authentic way to whip up our favorite salsas.  
Grilled Pineapple and Pickled Red Onion Salsa from Paleo Scaleo brings the amazing taste of pickled red onions to sweet pineapple… very intriguing.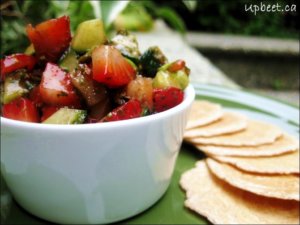 Nothing better than strawberries and onions to add to your crackers or chips. This Fresh Strawberry Salsa from upbeet looks like the perfect way to cool down on a hot Summer day.  
This Avocado Feta Salsa from Fake Ginger looks so good and creamy.  Each bite will be tasty and filling.  
This rich and flavorful Summer Salsa from Viand will have your friends asking for the recipe.  
No salsa list is complete without a verde recipe. Like this Authentic Spicy Salsa Verde from Garlic & Zest. My mouth is watering! 
We put our favorites together and came up with this Sweet Onion and Roasted Red Pepper Salsa with Lime and boy is it good.
What are you favorite ways to make salsa? Do you love changing things up or are traditional Summer Salsa recipes best?