I'm delighted to have Kate Winslow as a guest blogger. She's sharing her adventures abroad along with some fabulous photos and a delicious Pico de Gallo recips.
By Kate Winslow
Several years ago, my husband and I, along with our young son, moved to Sicily, where we worked for several months at a cooking school in the center of the island. The family who owned the school grew grapes for wine and olives for oil, as well as most of their own food, including beautiful red onions that were the start of almost every dish, from eggplant caponata and fava bean stew to the tomato sauce known as salsa pronta that was made in huge batches every August. When the big basket of onions in the kitchen was empty, we would cross the courtyard to an old stone shed and cut down another braid that had been hanging to cure.
Since that sweet time, onions have always been near and dear to our hearts—so much so that we wrote a cookbook focusing on the entire edible allium family. What other vegetable offers so much versatility in such a humble package? Indeed, onions—and their cousins: scallions, leeks, shallots, chives, ramps, garlic and more—play so many roles that we tend to take them for granted. How often do we reach for an onion at the start of making a meal, without even thinking? Chopped with other aromatics and sautéed in butter or oil, onions are the start of so many soups, stews and sauces. Western cooks traditionally reach for yellow storage onions or leeks, while many Asian cultures may start with scallions, shallots or garlic chives in combination with ginger and chiles.
But onions can also take on a starring role, as in classic dishes like French onion soup or leeks vinaigrette. In our book, we place onions front and center in frittatas and galettes, pizzas and salads. We follow an Afghan custom and stuff them with lentils, feta and prunes and roast them (we also follow an American habit and stuff them to overflowing with cheese, sausage and breadcrumbs). We grill big juicy rings of sweet onions and slide them into toasted tortillas for the simplest, tastiest tacos imaginable. Our refrigerator is full of pickled onions—from bright fuchsia red onions to dainty white pearls—that lend snap and piquant bite to sandwiches and cheese boards.
Yes, if we have an onion in the kitchen, we know we can make something good for dinner (or breakfast or lunch)!
And now that tomato season is coming in fast, I know we'll be turning often to our classic pico de gallo recipe…a salsa that comes together in minutes and offers the fresh summer flavors of ripe tomatoes, juicy white onion and jalapeño. Think beyond chips, and serve this salsa over eggs, grilled steaks, quesadillas—anywhere you need an extra jolt of fresh, juicy, spicy flavor.
[From ONIONS ETCETERA: The Essential Allium Cookbook (Burgess Lea Press, 2017)]
Pico de Gallo
Makes about 2 cups
Salsa made at the peak of tomato season is the ideal, but a homemade salsa using inferior tomatoes will still be better than any refrigerated "fresh" salsas from the supermarket, which often contain sugar and citric acid. Most shelf-stable jarred varieties have their own time and place—namely on the floor of a dorm room at 1:30 in the morning. Before adding the jalapeño, taste it—they can vary drastically in heat and flavor. Much of their heat is concentrated in their ribs and seeds, so go with your tastes, adding more or less as you like.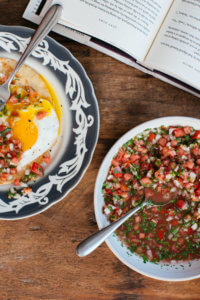 1 large ripe tomato, cored and chopped
1/2 medium white onion, finely chopped
1 jalapeño, finely chopped
1/4 cup finely chopped cilantro
Kosher salt
Put tomatoes, onions, jalapeños and cilantro in a bowl and season with ½ teaspoon salt. Stir gently to combine. Serve with tortilla chips, on tacos or quesadillas, over grilled meats, or with eggs.