The best thing about salsa is its versatility! You can use most any fruit or vegetable from tomatoes or strawberries to peppers and create a dip perfect for scooping with tortilla chips or for topping tacos. The best part is the one common ingredient among all my favorite salsas. You guessed it – onions! Like the one found in this Onion and Roasted Red Pepper Salsa.
Sweet Onion and Roasted Red Pepper Salsa with Lime
As the second feature recipe in our series for Onions in the Raw! #OnionsintheRaw salsa was a natural fit for raw onions of any color! As warmer weather sets in, so do our cravings for fresh salsas and salads that use raw onions. We're excited to bring you a few recipes to satisfy those cravings. We also want to see your ideas! Let us know how you use raw onions by tagging your photos and posts on social media with #onionsintheraw!
I love roasted red peppers, but I rarely see them used in salsa. This is why we created our own salsa recipe loaded with sweet onions and roasted red peppers. Using peppers from the jar allows you to add sweet and smoky flavor without extra work. This recipe makes the perfect option for those who like their salsa on the mild side, but you can always boost the heat by adding a few diced fresh or pickled jalapenos.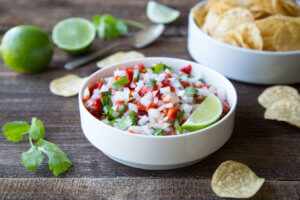 Makes: 4 to 6 servings
Prep Time: 15 minutes
Ingredients
1 (12 ounce) jar roasted red peppers, drained and diced
1 medium white onion, diced
1/2 cup fresh cilantro, chopped
Juice of 1 lime (about 2 tablespoons)
1/4 teaspoon fine sea salt
2 tablespoons red onion, finely chopped (optional)
Tortilla chips for serving
Preparation
In a medium bowl, combine roasted red peppers, white onion, cilantro, lime juice, and salt.
Transfer to a serving bowl and sprinkle with red onion, for garnish if desired and enjoy!
Note: best served soon after it is prepared.
When it comes to a fun a flavorful dip this Sweet Onion and Red Pepper Salsa with Lime will not disappoint. Bring to any party or just keep it all to yourself.