Gyros sandwiches are a street food favorite – and easier to make at home than you might think. Simply choose ground beef, chicken, lamb, or turkey and they are easily adaptable.  The key to making them at home is to create skewers of ground meat, sometimes called kofta that will cook quickly on the grill. To serve, slide the meat off the skewer and roughly chop it and stuff into pita bread.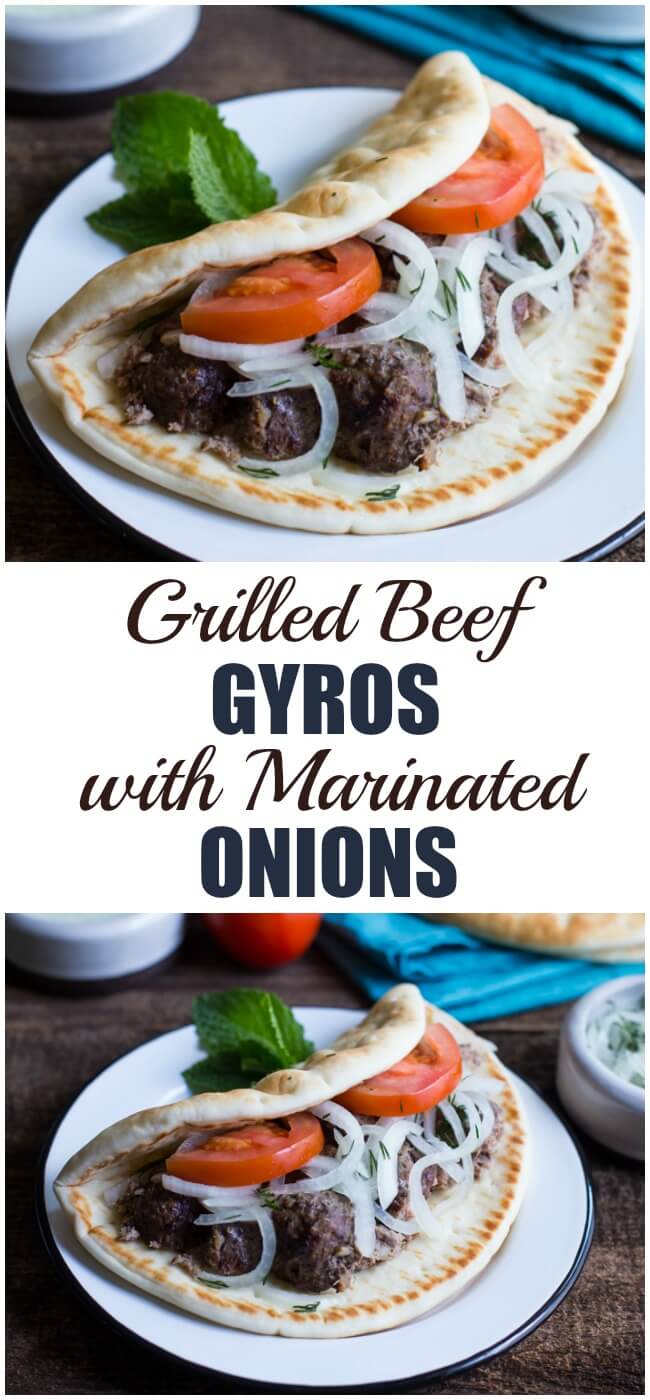 Grilled Beef Gyros with Marinated Onions 
As we move into the spring season, I highly recommend these gyros be the first recipe on the grill to help you ring in warmer weather. Our version uses lean beef which stays tender and juicy during grilling thanks to finely diced onions. Flavored with mint along with other herbs and spices, and topped with sliced onions that have been lightly marinated in dill and lemon juice. We like to serve it in a pita, but is also delicious over chopped greens as a gyro salad!
This recipe also kicks off the first in our series for Onions in the Raw! #OnionsintheRaw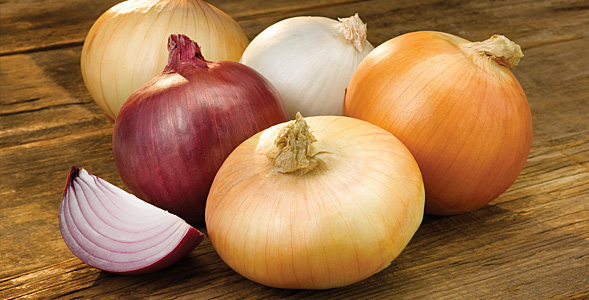 By the season:
Spring/Summer varieties of onions are generally milder in flavor, higher in water content, thus giving them a crisp texture.  They are especially ideal for raw and grilled uses.
By the color:
Yellow onion varieties we know by name like Vidalia, Walla Walla, and Maui Sweets are most famous for their mild flavor. From burgers and brats to salsa and salads, raw yellow onions are the perfect companion to any dish.
Red onions can be peppery or spicy, but the spring/summer varieties are much tamer. Often eaten raw on salads or sandwiches, their bright color and flavor are equally great for pickling, marinating, grilling or roasting.
Crisp, with a definite onion flavor, white onions are known to have a cleaner finish on the back of your tongue, leaving very little aftertaste. Raw white onions are an excellent choice for salsas, deli sandwiches, and in prepared salads (i.e. pasta or potato salad).
As the spring and summer months bring cravings for fresh, flavorful dishes that use raw onions, we'll be bringing you a few recipes to satisfy those cravings.
We also want to see your ideas! Let us know how you use raw onions by tagging your photos and posts on social media with #onionsintheraw!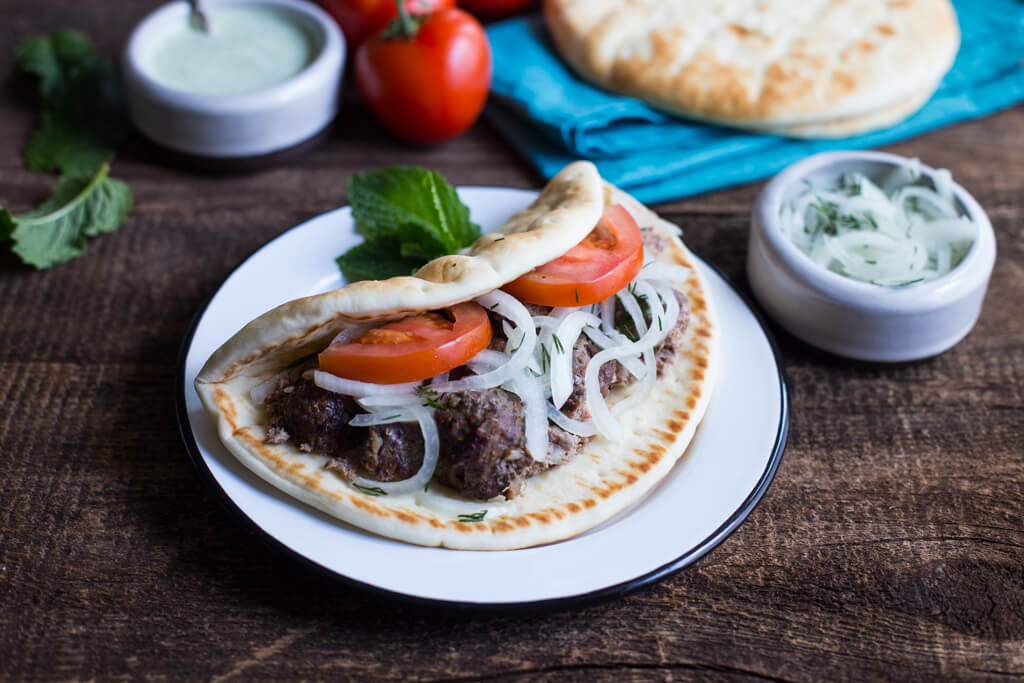 Grilled Beef Gyros with Marinated Onions
Makes:  4 servings
Prep Time:  30 minutes
Grilling Time: 8 minutes
Ingredients
Marinated Onions
1 large yellow onion
2 tablespoons fresh lemon juice
1 tablespoon chopped fresh dill
¼ teaspoon fine sea salt
Cucumber Yogurt Sauce
6 ounces low-fat plain Greek yogurt
1/3 cup diced cucumber
1 tablespoon chopped fresh dill
¼ teaspoon fine sea salt
Gyros
1 pound lean ground beef
1 clove garlic, grated
2 tablespoons chopped fresh mint
1 teaspoon dried oregano
1 teaspoon fine sea salt
½ teaspoon lemon zest
¼ teaspoon ground black pepper
4 bamboo skewers, soaked in water for 20 to 30 minutes
4 pita bread rounds, warmed
1 medium tomato, halved and sliced
Preparation
First prepare the onions. Cut the onion in half from stem to root and peel. Thinly slice one half of the onion and place the slices in a medium bowl. Add the lemon juice, dill, and salt. Toss to coat the onion slices and let marinade while you continue with the sauce and gyros.
Finely dice the other half of the onion.
Make the cucumber yogurt sauce by adding 2 tablespoons of the diced onion to a small food processor or a single serve blender cup. Add the cucumber, dill, and salt. Puree on high for 10 to 15 seconds until blended into a sauce. Pour into a container, cover, and refrigerate.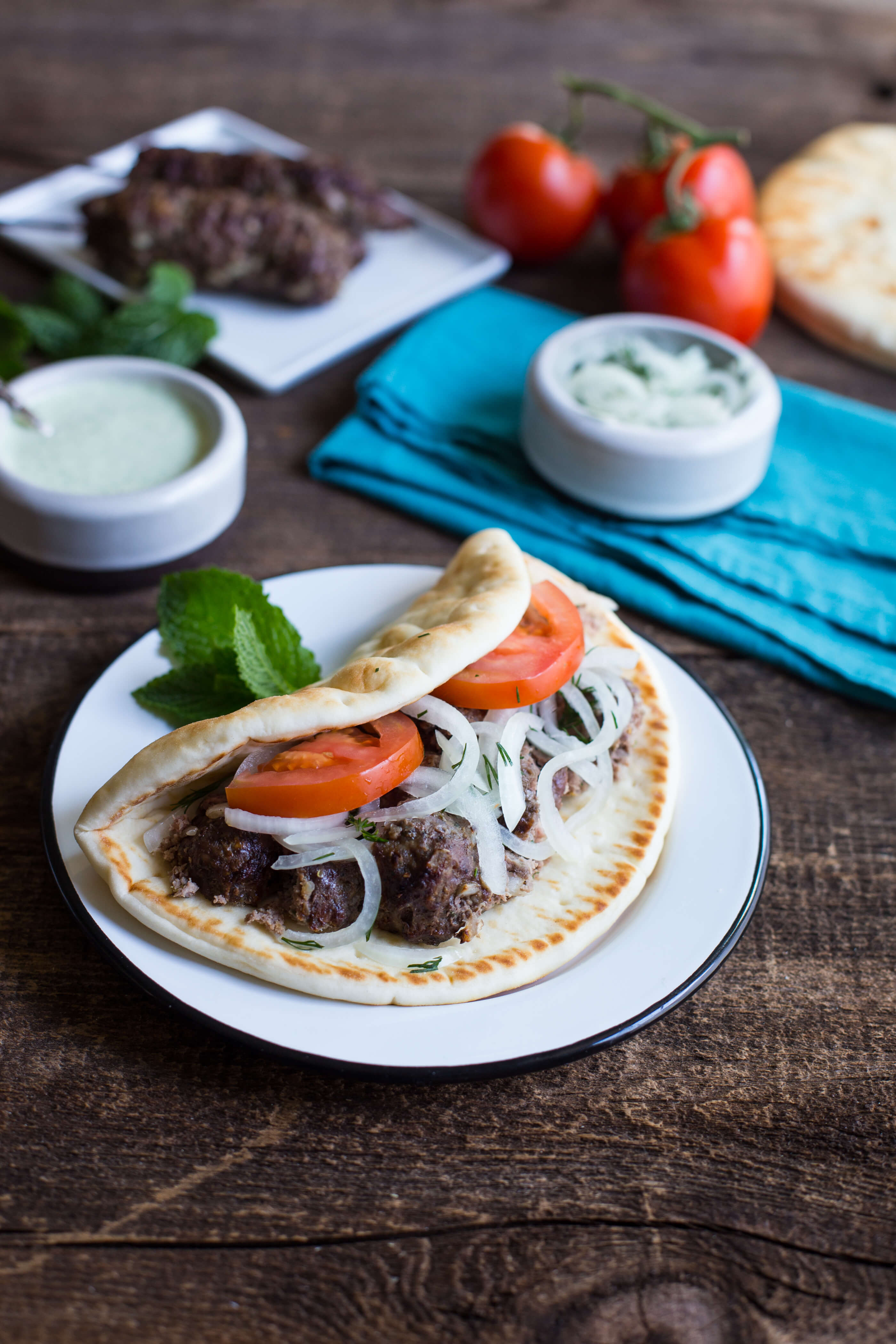 Heat the grill to high.
To make the gyros, stir together the ground beef with the remaining diced onion in a large bowl. Mix in the mint, oregano, salt, lemon zest, and pepper. Form the seasoned meat into 4 portions. Form each portion in a 4-to-6-inch long log. Slide a skewer up into the center of each log and form the meat around the skewer.
Grill for 6 to 8 minutes, flipping at least once during cooking. Cook until no longer pink, and to an internal temperature of 160 degrees F.
Remove the skewers from the grill and let rest for 2 to 3 minutes. Use tongs to slide each portion of meat onto a cutting board and roughly chop.
Fill each pita with meat, and then top with onions, tomato, and sauce before serving.
There are so many ways to enjoy Onions in the Raw and these Grilled Beef Gyros is definitely one of our favorites.