This comforting, hearty ham and vegetable stew is a twist on the French dish called Garbure. It starts with a mirepoix, a flavorful mix of onions, carrots, and celery.
Recipes for Garbure have a few things in common. They are thick soups or stews with a mirepoix base that is built upon with root vegetables and cabbage, herbs, ham, rich stock, and often beans. There are many variations to this slow-simmered dish. For our recipe, we wanted to create the same delicious flavor using onions, carrots, and celery, but as an approachable weeknight meal for the whole family.
We don't include slow cooking a ham hock with dried beans, but that is certainly an option. Here we've opted to add cooked diced ham making this an ideal meal to make with leftovers.
It comes together in as little as 30 minutes allowing you to quickly warm up with a hearty meal for lunch or dinner on any day of the week.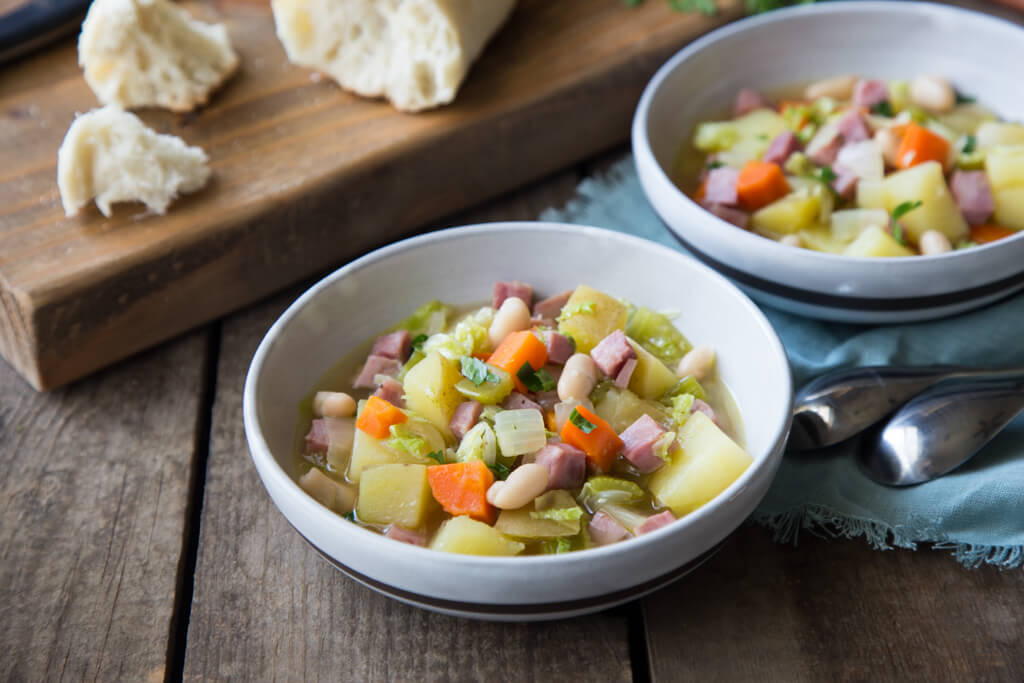 Makes: 4 servings
Prep Time: 10 minutes
Cooking Time:  20 minutes
Ingredients
2 tablespoons olive oil
1 large yellow onion, chopped
1 medium carrot, peeled and chopped
1 large rib celery, chopped
2 medium gold potatoes, chopped
4 cups unsalted chicken stock
1 (3-to-4-inch) sprig each of fresh rosemary and thyme
1 dried bay leaf
1 (15-ounce) can white kidney beans, drained and rinsed
8 ounces diced cooked ham
1 cup thinly sliced napa or savoy cabbage
¼ teaspoon fine sea salt, or to taste
¼ teaspoon ground black pepper, or to taste
Chopped fresh parsley for garnish
Preparation
Heat the olive oil over medium-high in a large soup pot or Dutch oven. Add the onion, carrot, and celery and cook for 5 minutes, stirring often, until the vegetables begin to soften. Add the potatoes and cook for 3 more minutes.
Pour in the stock and add the sprig of rosemary and thyme and the bay leaf. Increase the heat to bring the soup to a boil and then reduce the heat slightly, and allow the soup to simmer for 5 minutes, or until the vegetables are tender.
Stir in the beans and ham. Cook until heated through, about 2 minutes. Add the cabbage, salt, and pepper. Discard the sprigs of rosemary and thyme and the bay leaf. Serve warm sprinkled with parsley.
Recipe and images by Lori Rice for the National Onion Association