Possibly one of the most versatile condiments, pickled vegetables find a way into nearly every cuisine. When it comes to vegetables – onions are one of the most versatile vegetables and found in nearly every cuisine. 
No wonder the pairing of onions and pickling is so tasty and . . . increasingly popular! 
Pickled Vegetables & Pickled Onion Recipes
Pickled onions are incredibly easy to make and with their tangy flavor and tender, yet crisp crunch they bring a totally new dimension to nearly every taco, tostada, burger, sandwich or salad they come in contact with. One word explains their role, magic!  When you make your first batch, you'll wonder why you didn't make them sooner. 
Colors and Sizes
Red onions are the most colorful, and most noticeable in photos, but honestly, whatever color you choose, yellow, red, or white, they all pickle really well.  Their texture will be similar, although their flavor will vary slightly. Sliced into slivers or rings, full size onions are the best choice for most uses. 
Perfect sized pearl onions are great for pickling too – common as part of a cured meat and cheese board or relish tray for snacking, and for garnishing cocktails or mocktails. They can just as easily be tossed in a salad, stir-fried or tucked inside sandwiches whole, or sliced. 
The Basic Formula
Pickling requires acidic liquid like vinegar, water (or not), a sweetener (i.e. sugar), and a combination of dry and/or fresh spices, seasonings, and herbs.  You'll find a variety of flavor combinations to give you plenty of options depending on your preferences and what you serve them with.  
How to Enjoy
Here's a few ways to enjoy pickled onions.  
We're sure you'll find some of your own we haven't mentioned. 
Tacos, Tostadas (don't forget to add radishes too) 
Pulled Pork Sandwiches or shredded chicken or roast beef sandwiches, and how about Grilled Steaks with Red Chile Sauce.  Or, go with an Asian flare with Pickled Ginger Onion Relish (you'll find out how to make this below) on Tuna Steak Buns. Oh, yum! 
Burgers – more interesting than raw, with a similar texture. Check out our Grilled Turkey Burger (you'll find this delicious recipe below), but think of adding them to black bean burgers, game like Elk or Buffalo, and be sure to try them with on a lamb burger with feta! 
Hot Dogs and Brats – jazz up those meat and bun combos with tangy pickled onions as the perfect substitute to a sweet or dill style relish. Traditional (link to our recipe) or off-the-beaten-path (think chicken brats), the flavor and texture is perfect for pairing with savory meat and stone ground mustards. 
Salads – kale, cabbage slaw and grain salads get a flavor boost with pickled onions. 
Indian food – pickled onions with chili adds a little heat, along with flavor and texture to Naan sandwiches, chicken tikka, or panner curry.  
Cocktails/Mocktails – Bloody Mary's Martini's and Gibsons!
Here's a few or our recipes for you to try. 
Experiment for yourself, see what you like.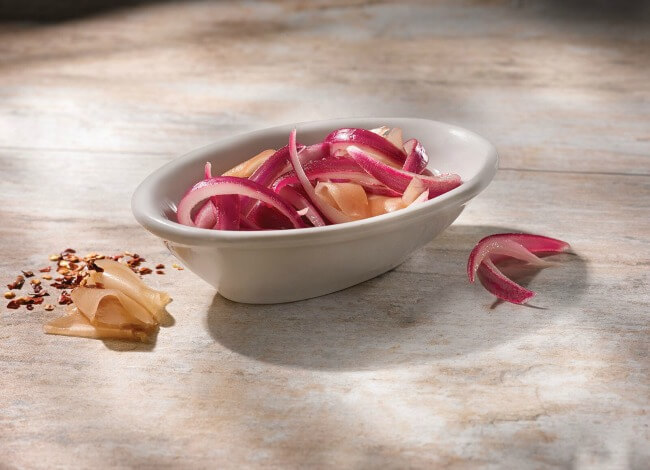 Pickled Ginger Onion Relish
Yields: 3 cups
Ingredients: 
Onions, red, sliced 1/8-inch thick 3 cups
Rice wine vinegar 3/4 cup
Honey 2 tablespoons
Sea salt 1 teaspoon
Ground red pepper 1/8 teaspoon
Pickled ginger with juices 1/2 cup
Directions:  
Place onions into a bowl and cover with icy water for 10 minutes.
Drain when ready to use. In a saucepan, heat vinegar, honey, salt and pepper over low heat just until boiling.
Remove from heat. Pour over drained onions and mix well. Stir in ginger with juices and mix.
Cover and cool to room temperature, stirring occasionally. Place in a cove red container and refrigerate at least 24 hours before using.
Grilled Turkey Burgers with Pickled Onion
serves 4
Pickled Onions:
1 cup red wine vinegar
2 tablespoons brown sugar
1/2 teaspoon salt
1 small red onion, very thinly sliced
Turkey Burger:
1 pound ground turkey
1/3 cup fresh breadcrumbs
1 egg
2 tablespoon milk
2 tablespoon fresh cilantro, chopped
1-1/2 teaspoon ground cumin
1/2 teaspoon salt
1/4 teaspoon ground pepper
4 slices Havarti cheese
1/2 cup frisée lettuce
4 whole wheat hamburger buns split in half
3 tablespoons reduced fat mayonnaise
Directions For Pickled Onions:
Whisk together vinegar, brown sugar and salt in a medium bowl. Cover
and microwave on high for 3 minutes until it boils.
Add onions and toss to coat. Let stand for 30 minutes or up to 3 days for a more concentrated flavor.
For Burgers:
In a bowl gently combine ground turkey, breadcrumbs, egg, milk, cilantro, cumin, salt and pepper.
Shape into four patties.
Coat the grill grate with nonstick cooking spray and pre-heat the grill. Place patties on grill over medium, ash-covered coals and grill, uncovered for 4 to 6 minutes per side or until no longer pink on the inside.
Top each burger with cheese and grill for an additional 2 minutes or until cheese melts.
If desired, arrange buns cut side down on the grill to toast.
Spread bottom bun with a thin layer of mayonnaise, frisée lettuce and the turkey patty. Top with the pickled onions. Cap with remaining bun and serve immediately.
Per serving: about 377 cal, 35 g pro, 26 g carb, 15 g fat, 4% cal from fat, 89 mg chol, 738 mg sod, 2.5 g fiber.
Recipes and images provided by the National Onion Association