Buckle up!  We're about to share details of a blogger and her family's cross country road trip that started in a Michigan onion field.
Meet Heather McCurdy from Real: The Kitchen and Beyond.
Heather's notion to do a cross country road trip was part family vacation, but it also fulfilled Heather's desire to see where and how our food is grown – and to share those experiences with her family.
The National Onion Association and  Michigan Onion Committee were excited to sponsor Heather's first stop, a Michigan onion field!
On an Onion Farm in Michigan

Heather, pictured above in an onion field at Bruce Klamer, of V & W Farms, Inc. Bruce is the current President of the Michigan Onion Committee and active member of the National Onion Association.

When the McCurdy family got home from their travels we had a little question and answer with Heather to find out all about their experiences.
Like many trips, they have memorable moments.  We asked Heather what their most memorable moment was.
Heather said, "We got to Custer State Park late in the evening and there was a brutal storm so we went to eat near Mount Rushmore hoping it would move on and we could still see "the Presidents" that evening. It did and we made it around 

10:15 PM

 and walked up toward it. Everything was silent and dark – the path of the flags and the mountain lit up, and after we stood and looked at the stonework for a few minutes my daughter wrapped her arm around my waist and said, "Mom, I've always wanted to see this." It goes without saying that when she wanted to see them in the morning we went back. When we arrived they were covered in a thick fog so we didn't think it would happen. In the time we were in the gift shop it cleared enough for this shot."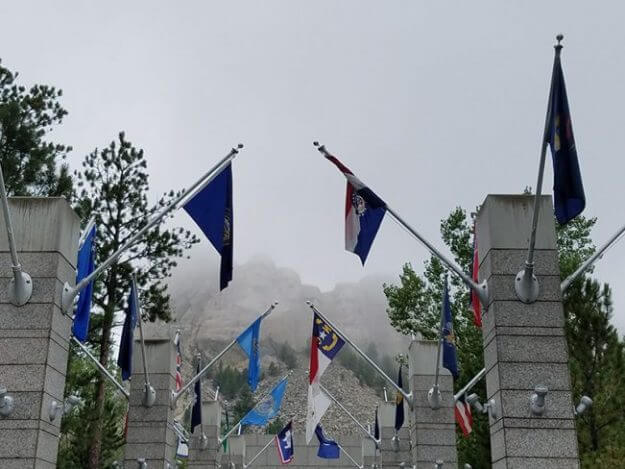 Next, we asked Heather what her big 'take away' was from the time she spent with Bruce (what she learned about onions that she didn't know or that surprised her).
"What surprised me most may seem oddly small, but it was how the onions were growing partially out of the soil. I always envisioned onions buried deep in the ground. That and the way you know they are ready to be harvested when the green tops dry out and fall over."
Bruce is a busy grower, but enjoys sharing what he does with other people.  We knew the time Heather and family spent with him would be insightful. We asked what they enjoyed most about their time on the farm with him.
Heather:  "I have to choose a favorite?! All of it? Truly, this was such an amazing experience. From bouncing along the fields in his truck, to seeing his love for the land and onions, it was such a great time. I think my absolute favorite part, aside from the "let's get real with it getting the van stuck in the mud in the field", was interviewing Bruce so my readers could get a glimpse of life in the field and sharing his story.

Final thoughts from Heather about her road trip this summer.
I am just so grateful to the National Onion Association and Michigan Onion Committee, especially Bruce, for inviting our family and my readers into the field and the time  he took out of his busy schedule to haul us through the fields and explain everything to us – including the kids. I always tell people this was one of the highlights of the trip."
Heather, we're so glad you and your family enjoyed your cross country adventure and we're especially glad you had a wonderful time with our friend Bruce.
To learn more about Heather's road trip be sure to stop by her blog for a visit Real: The Kitchen and Beyond.