Over the past few weeks we've shared our favorite onion-inspired condiments and now it's time to bring them together to create your own hot dog or brat bar. Tip: The more toppings the better. If this means you need a knife and fork to eat your ultimate hot dog, we think that is perfectly okay! Get creative and load it up!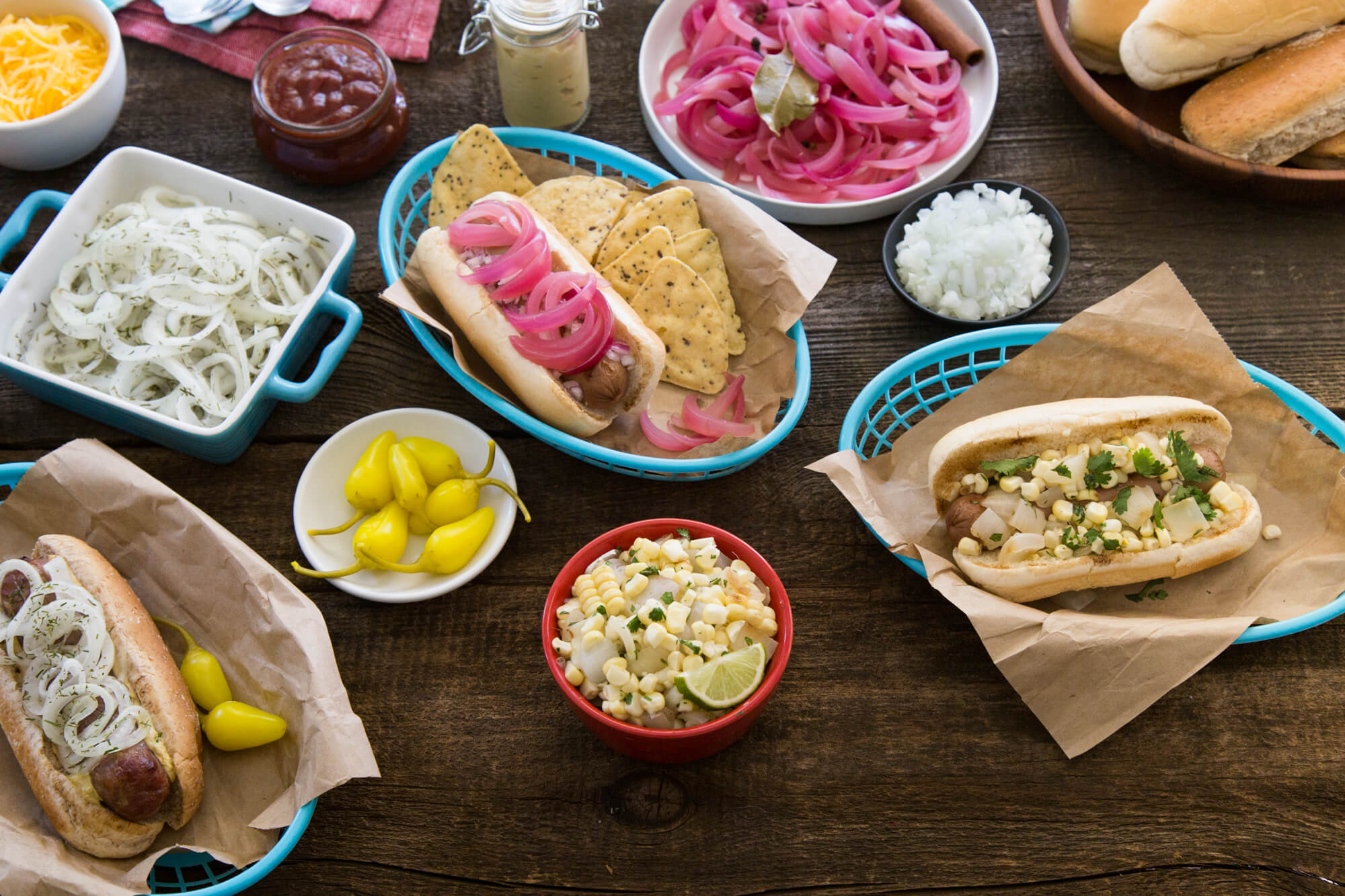 We've been hard at work (and play) perfecting the best toppings bar and these are a few tips for recreating it in your own backyard.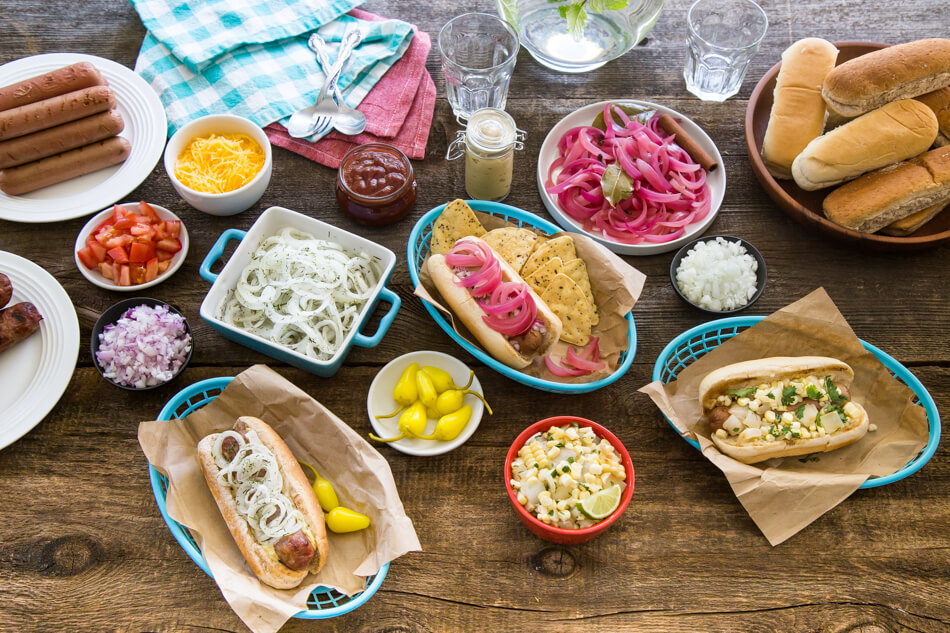 A hot dog or brat for everyone.
There is no reason you have to stick to grilling one kind of main course. Beef hot dogs, chicken hot dogs, vegetarian hot dogs, beer brats, Italian sausages and Polish sausages are just a few of the many varieties available. Give your guests something to choose from and start with a delicious base for building.
Be selective about buns.
When selecting hot dog and brat buns, pay attention to their size. Gourmet buns are pretty, but they may not be ideal if they swallow up your hot dog. It's best to have a more even ratio of meat to bread with each bite. Choose a selection of white and whole wheat buns to please all of your guests.
Just add onions.
We've given you the recipes for a seasonal Grilled Sweet Onion and Corn Relish, a zesty Sweet Onion Salad and tangy spiced Pickled Red Onions, but don't stop there. Finely diced red, white and yellow onions are essential for your table of toppings.
Get creative with ketchup.
Gourmet ketchup will be an unexpected surprise at the table. A few varieties you might discover are spicy or smoked ketchup, ketchup blended with lemon or lime, and ketchup with herbs and spices.
Serve more than yellow mustard.
A good mustard is essential when you are serving brats. Chances are someone will want standard yellow mustard, but add a few more to your table. Look for brown mustard, grainy mustard and mustard mixed with horseradish.
Cheese, please!
A sprinkle of shredded cheese is a tasty way to add even more flavor to your hot dogs. Shredded cheddar will add a pop of color to your table, but consider Colby jack, pepper jack or Mexican cotija cheese.
Pick out some pickles.
Sweet and dill pickle relishes are an essential topping, but make space for other types of pickles, too. Sliced dill, bread and butter, or sweet cocktail pickles can be used a toppings, while dill spears can be served alongside your creation.
Peppers of all kinds.
Banana pepper rings, jalapeno slices and sports peppers will add some heat to the offerings on your hot dog bar. Don't forget about fresh peppers. Diced red and green bell pepper and minced fresh jalapenos will add a bit of crunch to each bite.
Don't go without the kraut.
Sauerkraut complements all kinds of sausages. Look for fresh varieties in the refrigerator case at the supermarket. Some creative flavors include kraut made with dill, garlic and jalapenos.
Sneak in some extra veggies.
There is no limit to how creative you can get with your toppings bar. Finish things off with bowls of diced tomato, cucumber slices, shredded cabbage and chopped herbs.
It's summer. Keep the food safe.
Make food safety a priority. Keep the hot dogs, brats and sausages hot by serving them in warming trays. Create a cold food service line by filling shallow tubs with ice and displaying toppings in bowls set over the ice to keep cold foods cold. As a general rule, foods should not be left out without refrigeration for longer than two hours. This time limit drops to one hour when the temperature is 90 degrees F or higher.
Put it all together.
Once you have your toppings selected, consider how you will be serving the food. If your guests will be moving along a buffet line to build their hot dogs, display the toppings in a logical way. Buns and meat at the start of the table followed with spreads and sauces. Then all of the toppings like onions, relishes and vegetables. End the line with peppers and pickles that are intended to be served on the side. If you are dining around a table together, place the toppings within easy reach of each guest. For large groups, consider making two bowls of each topping and placing one at each end of the table. Pass around the meat, buns, and any toppings as needed.
No matter what you choose to serve or how you serve it, this will be a fun and memorable event. Guests will enjoy building their own meals and you just might create a new Outdoors with Onions tradition to repeat year after year.
By Lori Rice for the National Onion Association/www.onions-usa.org