Crisp and tangy, pickled red onions make the best topping for hot dogs, burgers, brats and tacos.
This recipe takes the classic condiment a step further by adding spices that give the onions a punch of unique flavor. When you top your dog, try combining them with diced raw red onion. The slight bite of the raw onion makes a tasty partner for the pickled onions. They are sure to be a favorite on your hot dog bar while also adding a pop of color to your spread of toppings. Be prepared for the hot dog you build to get some special attention because these pickled red onions are as pretty as they are delicious.
Yield:  6 to 8 servings
Preparation time:  20 minutes
Cooking time:  10 minutes
Ingredients
2 cups red wine vinegar*
2 cups water
½ cup sugar
½ teaspoon allspice berries
½ teaspoon whole black peppercorns
½ teaspoon whole cloves
2 bay leaves
2 cinnamon sticks
¼ teaspoon salt
2 medium red onions, sliced
Preparation
In a large saucepan, combine the vinegar, water, sugar, allspice berries, peppercorns, cloves, bay leaves, cinnamon sticks and salt. Heat over medium-high and simmer 5 minutes to infuse the vinegar with the spices.
Toss the onions in the hot pickling liquid. Cook 1 more minute.
Pour the onions and liquid into a heat-safe bowl. If necessary, weight the onions with a heavy pan or plate to keep them submerged in the liquid. Let cool completely. Serve chilled or a room temperature.
*For the most vibrant flavor, use Cabernet Sauvignon vinegar.
Don't forget to check out our other delicious topping ideas like Grilled Sweet Onion and Corn Relish and Sweet Onion Salad!
Tell us how onions make your summer cookouts even better! Join us Thursday, July 21st at 11:30 am PT/2:30 pm ET for the Outdoors with Onions Twitter Party. Just follow the hashtag #OnionsOutdoors.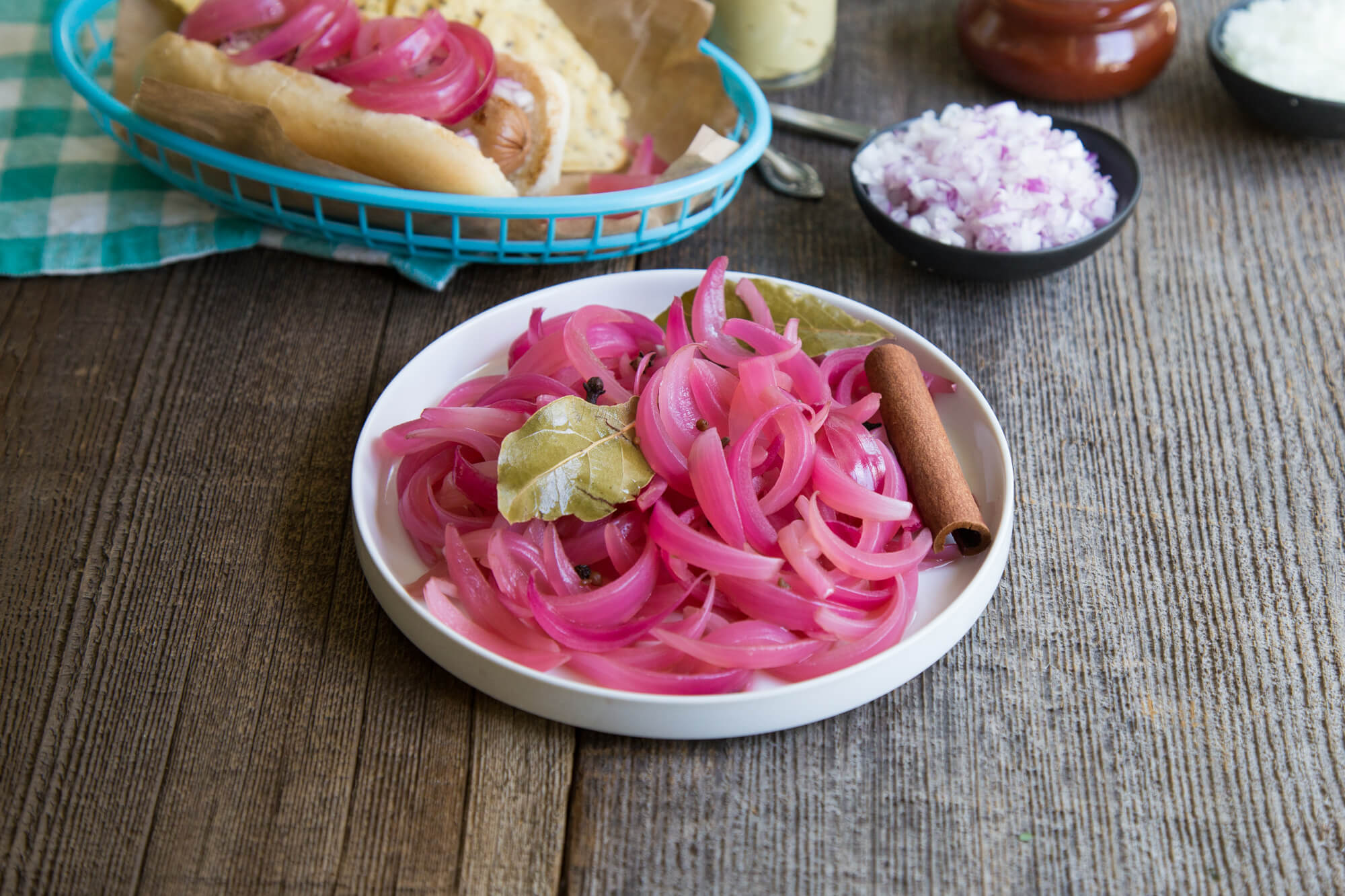 Images by Lori Rice for the National Onion Association/www.onions-usa.org