This Sweet Onion Salad gives you the best of both worlds.  A delicious side dish on its own or a sweet and tangy topping for hot dogs and brats.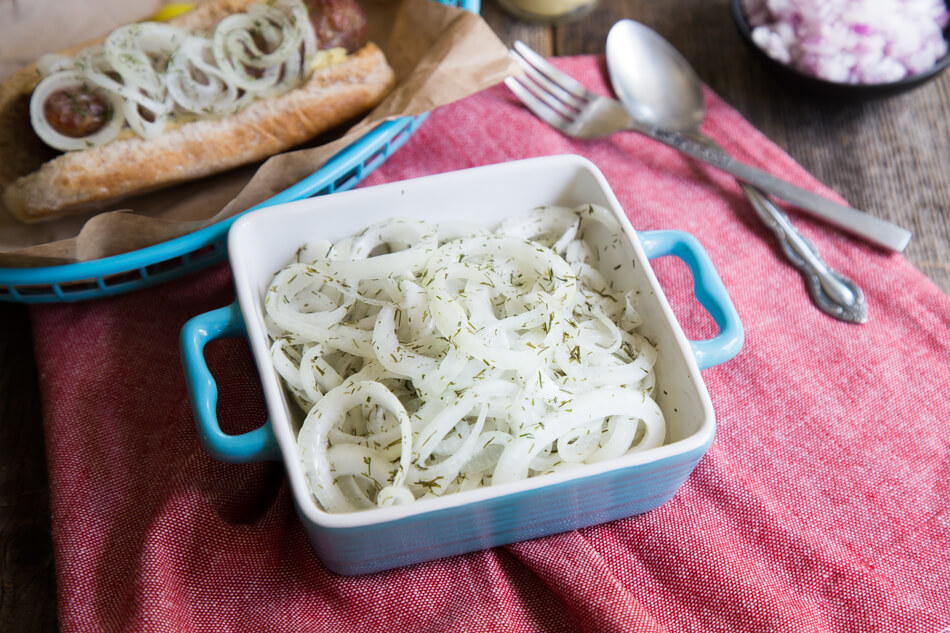 We discovered this recipe from Carzalia Valley Produce and we have been hooked ever since. Originally a salad, we decided to use it as a sweet and tangy topping for hot dogs and brats. It turns out you can't go wrong whether you enjoy it as a condiment or a side dish!
Rich in agricultural tradition, Carzalia Valley Produce dates back to 1918. The farm is located in the high desert of Southern New Mexico and it's home to the Carzalia Sweet Onion. They aim to provide consumers with the sweetest onions possible, which happen to be ideal for salads and relishes.
In other words, you DO NOT want to pass up Carzalia Valley's Sweet Onion Salad.
Hint:  We're big fans when it's piled on a grilled brat with a little spicy brown mustard!
Carzalia Valley's Sweet Onion Salad
Yield:  10 to 12 servings
Preparation time:  20 minutes
Ingredients
3 lbs.  Carzalia Sweet onions
1 cup white vinegar
½ cup water
½ cup sugar
3 teaspoons dried dill weed
2 teaspoons salt
Preparation
Peel and thinly slice onions and separate them into rings. Place the onions in a large bowl.
In a medium bowl, whisk together the vinegar, water, sugar, dill weed and salt. Pour the liquid over the onion rings. Stir well. Cover and refrigerate at least 5 hours before serving, stirring occasionally.
Don't miss the Grilled Sweet Onion and Corn Relish to serve with this Sweet Onion Salad!
We want to know how you enjoy #OnionsOutdoors! Join us Thursday, July 21st at 11:30 am PT/2:30 pm ET for the Outdoors with Onions Twitter Party!
Recipe provided by the Carzalia Valley Produce/www.CarzaliaValley.com. Images by Lori Rice for the National Onion Association/www.onions-usa.