Add a creative twist to your St. Patrick's Day fare this year with Irish Nachos, the St Patricks day party food people will love. 
What are in Irish Nachos?
Homemade potato chips serve as the base of any Irish Nacho recipe, which s said to have first appeared in a Texas restaurant in 1979. Don't worry, homemade potato chips are a breeze. Our recipe calls for deep frying your potatoes, but you can make a skinny version. If you have an air fryer, try this recipe from Taste of Home.
This St Patricks Day party food with great onion flavor
Nachos wouldn't be complete without onions, so we managed to incorporate them in two tasty ways in this St. Patricks Day party side. First, sliced yellow onions are braised with Irish cider for a bit 'o rich sweetness to balance the saltiness of the fried potatoes. Then, we finish off the dish with a sprinkle of chopped red onion for a zest 'o flavor and cheery spring color. You can find this recipe here.
Variations on this recipe won't hurt the great taste
To make this recipe alcohol-free, simply substitute apple cider or chicken stock. Or, skip braising all together and make caramelized onions using our favorite recipe. Then, get creative with adding even more toppings you enjoy! I'm thinking the addition of black beans, pickled jalapenos, or a little roasted corn would be equally delicious. Cheers!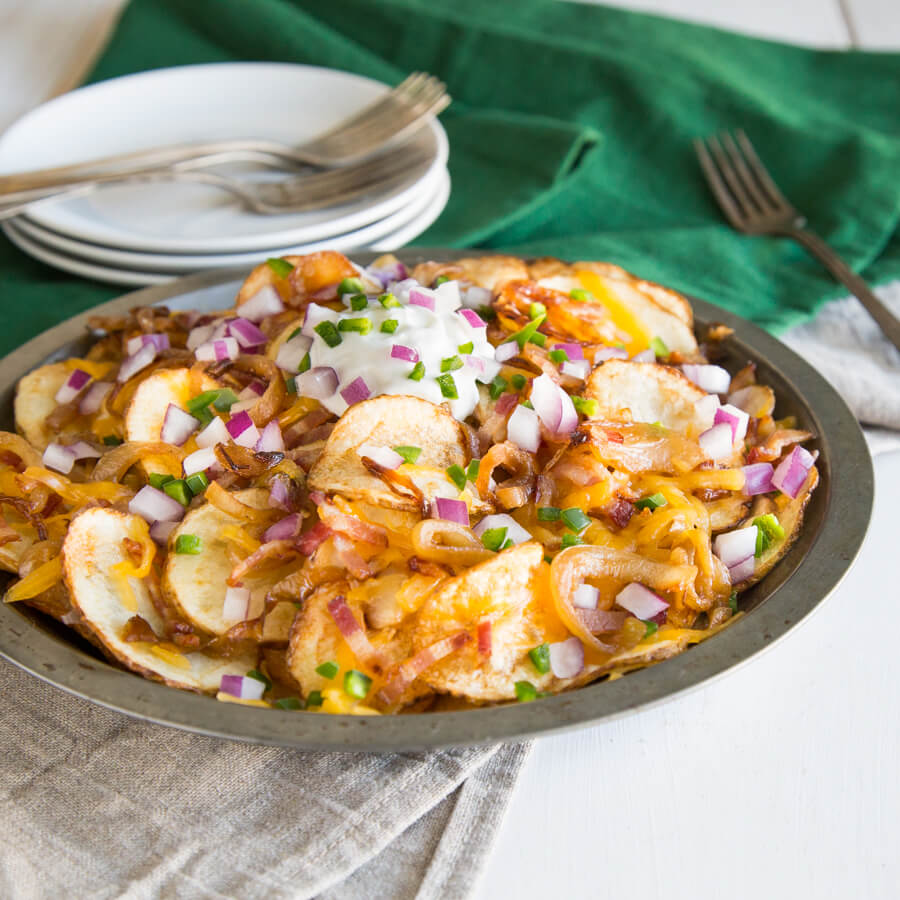 Irish Nachos with Cider-Braised Onions
Yield: 4 to 6 servings
Preparation time: 30 minutes
Cooking time: 45 minutes
Ingredients
Homemade Potato Chips
2-1/2 pounds Russet potatoes, sliced at 1/8 to 1/4-inch thickness*
4 cups cold water
1/2 cup white distilled vinegar
Peanut oil
Fine ground sea salt
Braised Onions
2 tablespoons unsalted butter
1 large yellow onion, sliced into rings
4 oz. dry Irish cider*
Nacho Toppings
4 oz. cheddar cheese, shredded
4 oz. cooked bacon, crumbled
3 tablespoons sour cream
1 jalapeno pepper, diced, ribs and seeds removed
1/4 cup diced red onion
Preparation
1. Place sliced potatoes in a large bowl; pour in the water and vinegar and stir. Then soak for 15 minutes, then drain and pat the potato slices dry with a clean kitchen towel. While the potatoes soak, start the onions.
2. Melt butter in a medium skillet over medium-high heat. Add the onions and stir to separate the rings. Cook for about 2 minutes, stirring often. Lower the heat to medium-low and cook for 20 minutes, stirring occasionally. Carefully stir in the cider and continue to cook the onions for 15 to 20 more minutes, until they reach your desired level of browning. They should be soft, golden brown, and sweet.
3. Fill a 4 to 5-quart pot or deep frying pan about 1/3 full with oil. Heat to 375 to 400 degrees F over medium-high heat, or follow the directions for heating your electric fryer. Working in batches, fry the potato slices for about 5 minutes, until golden brown. Use a slotted spoon to transfer the potatoes from the fry to a platter covered with paper towels to drain the oil. Sprinkle with sea salt to taste while warm.
4. To serve, transfer the potatoes to a serving plate. Top with braised onions, and sprinkle with cheese and crumbled bacon. Place a dollop of sour cream in the center of the nachos and finish by garnishing with diced jalapeno and red onion.
* The thinner your slices the more quickly they will fry and the crispier they will be. Thicker slices will have crisp edges and softer centers, like potato wedges or home fries.
** Substitute any type of stock or leave the liquid out all together.
PIN THIS RECIPE: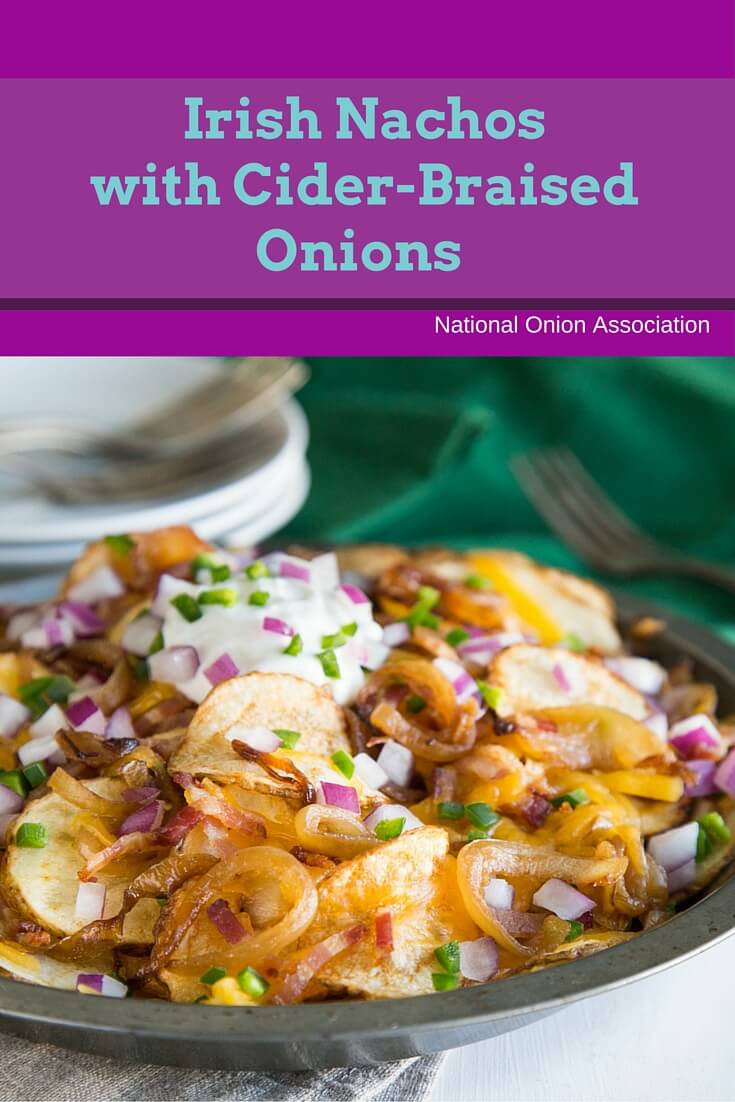 Recipe and images by Lori Rice for the National Onion Association