With costs rising everywhere, eating out has become a luxury once again. But all the better for you and your family. Home-cooked meals are what we remember most from our childhoods, and they're better for us. If you are struggling with deciding whether you should be cooking at home vs eating out, look no further.  The National Onion Association is your advocate for nutrition. Learn more.
Don't get stuck wondering about the benefits of cooking at home vs eating out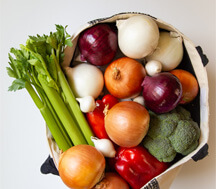 You may ask yourself, "Why is cooking at home better than eating out?" After all, chefs are trained to produce the best meals. We know that there are several studies out there that suggest you will have a healthier diet when you cook at home. According to a study reported in Healthline, a good 20 percent of the calories Americans consume come from some type of restaurant. That study, the National Health and Nutrition Examination Survey, reported that 50 percent of the food at restaurants and 70 percent of fast-food meals in America were of poor dietary quality. With many restaurants putting calorie counts on their meals, it at least helps you pick lower-calorie foods. But we know when you are cooking at home vs. eating out, you can control the calories with the ingredients you choose. Just look at the amount of calories in restaurant salads! Restaurants also serve large portions to accommodate the idea of giving people their money's worth. This can lead to overeating, as well. According to the Obesity Action Coalition, restaurants are in business to make money not counting calories, and making mouth-watering food that people can't put down helps bring in business.
Why not add versatile and flavorful onion to your meals?
Adding onions to your meals can bring nutrition and flavor to your home cooking. Just one medium onion provides 20 percent of your daily Vitamin C needs and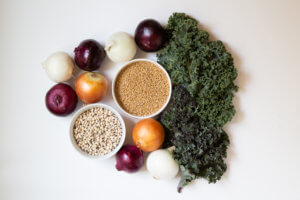 11% of your fiber needs, as well as being a rich source of Vitamin B6, potassium, and other key nutrients including folate, calcium, and iron. Adding onions to your diet also can help people build their immunity and protect them from certain types of cancers and other health conditions.
Check out these 7 benefits of home-made meals
Here are seven benefits of cooking at home vs eating out.
Health and Nutrition: Cooking at home is healthier. It allows for greater control over the ingredients used in meals. When you add onions, you get not only sound nutrition but great flavor!
Quality Control: By cooking at home, you can ensure the quality and freshness of the ingredients. This helps in avoiding preservatives, additives, and excessive sodium often found in pre-packaged or processed foods.
Customization: Home cooking offers the flexibility to customize meals according to personal preferences, dietary restrictions, or specific nutritional needs. When you add onions, for example, you add valuable nutrients, flavor, and texture.
Cost Savings: Cooking at home is generally more cost-effective compared to dining out.
Family Bonding: Preparing meals together at home can be a wonderful opportunity for family bonding. Cooking activities encourage communication, teamwork, and shared experiences, fostering stronger relationships among family members.
Improved Culinary Skills: Regular home cooking allows you to enhance your culinary skills and creativity in the kitchen. Experimenting with fresh ingredients like onions can lead to the development of new recipes and culinary techniques.
Sense of Accomplishment: Cooking at home offers a sense of accomplishment and satisfaction. Enjoying a homemade meal, prepared with fresh ingredients, can boost confidence and overall well-being.
Sure, it's always easier to find the one spot where everyone in the family can get exactly what they want for dinner, but these days, a good restaurant may cost more than money.  As you think about spending time with your family, making homemade meals is one of the best ways to get everyone together and keep your family healthy.