Believe it or not — the onions in your pantry can go a long way this grilling season.
Now that summer is growing near, onions are more important than ever — not just to make the most of your meals, but they are a great resource for your summer cookouts — in more ways than one.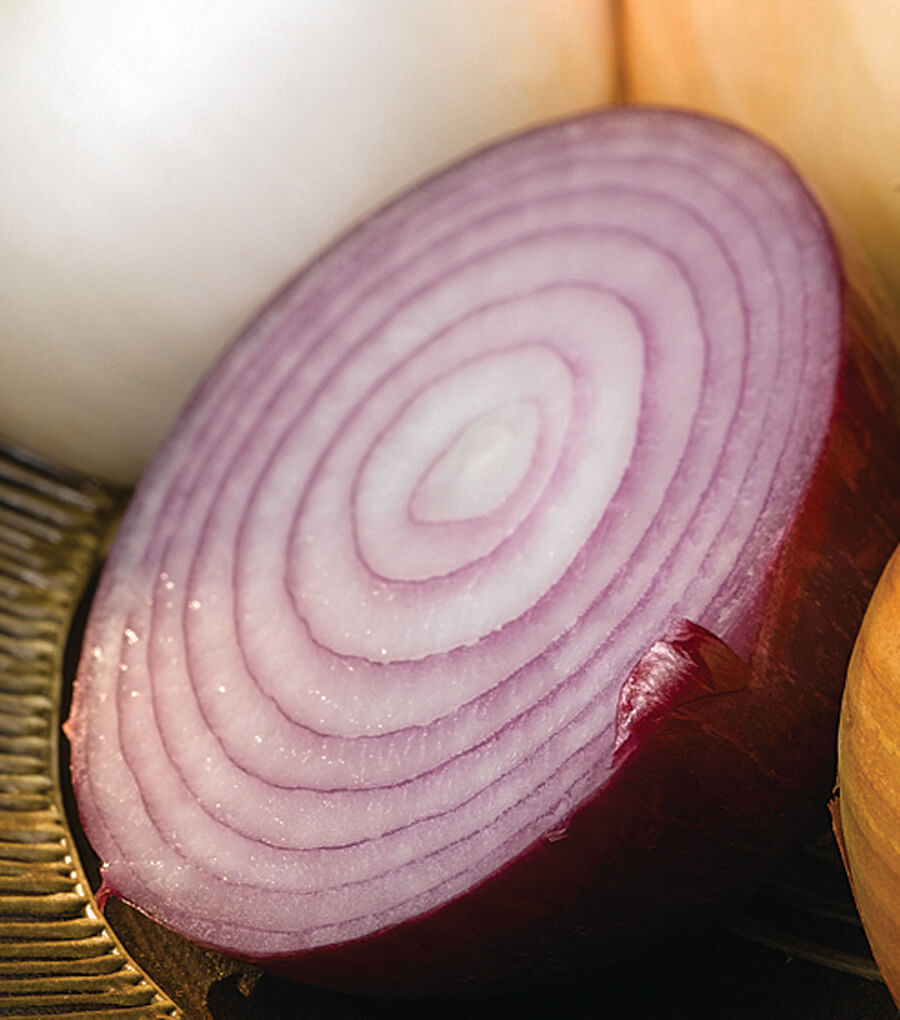 As you start your grill this grilling season, an onion is essential. Cleaning your grill is always a messy job, and should be done with a brush. But the juices in an onion become natural cleansers when applied to heated grates. This is especially important when using a public campground or park grill. You never know what was on them last!
Onions' naturally occurring juices contain sulfur compounds that not only repel bugs while they're growing — the same ones that cause your eyes to tear up when you cut into them — they are strong enough to break down the grime on your hot grill. Those same juices provide the flavor you've come to love from an onion, while protecting your body from certain types of cancers and diseases. Some studies also have shown increased consumption reduces blood pressure and even lessens asthmatic issues.
That onion, however, can go a little further. When you're done cleaning the grill, toss the leftover onion in the coals to infuse a good onion flavor into whatever you're cooking this grilling season.
Now that your grill is clean, here are a couple of a great recipes to kick off your grilling season:
Sweet Onion Sliders
Ingredients
16 Slider buns, about 2 ½ to 3 inches in diameter, split and toasted
16 tablespoons unsalted margarine, room temperature (use recipe below or store-bought margarine)
4 large sweet onions, such as Vidalia, sliced into 16 (1/3-inch thick) slider-size patties
Extra-virgin olive oil, for brushing the onion patties
Sea salt, to taste
2 tablespoons mayonnaise (use recipe below or store-bough mayo)
4 tablespoons finely minced fresh parsley leaves
2 tablespoons chopped capers (optional)
Directions
Spread each bun with 1 tablespoon of the margarine. Bush each onion patty with the olive oil. Heat a grill to medium-high heat, or place a grill pan over a burner set to medium-high heat. Cook the onion patties until just tender and grill marks form, about 10 minutes. 

Place 1 onion patty on each bun bottom. Lightly season the onions with the salt. Spread some of the mayonnaise around the inside top of each bun, sprinkle with the parsley and the capers, if using, and close each bun. Serve immediate.
Yields 16 sliders
Special notes
DIY Margarine

16 ounces coconut oil
1-1/2 cups canola or sunflower oil
1 cup full-fat coconut milk
2 tablespoons smooth Dijon mustard
1 tablespoon ground turmeric
2 teaspoons salt, or to taste

Attach a candy thermometer to the side of a sturdy, medium-size saucepan. Prepare an ice water bath in a vessel large enough to hold the saucepan.

Add the coconut oil, canola oil, coconut milk, mustard, turmeric, and salt to the saucepan, stirring well. Bring the mixture to 125°F over medium heat, then transfer the pan to the ice water bath, and continue to stir until the mixture firms up. Transfer the mixture to a container with a screw-on lid. Cover and refrigerate the mixture. The margarine will keep for about 2 weeks.
Yields about 4 cups

DIY Mayonnaise

For anyone looking for a plant-based alternative to store-bought mayonnaise, Vegenaise is the recommended brand. Vegenaise is becoming more widely available in stores, but it can also be purchased online at FollowYourHeart.com, which is the website of the company that originally created it.

For a homemade mayo, the following version can be used in recipes throughout this book:

3/4 cup all-purpose flour
1/2 cup sugar
1 cup water
1/2 cup cider vinegar
3/4 cup vegetable oil
2 tablespoons freshly squeezed lime juice
1 teaspoon grated lime zest
2 teaspoons salt
1/2 teaspoon dry mustard, such as Colman's
3/4 cup soft tofu, pressed and drained, if desired (see instructions below)

Stir together the flour, sugar, water, and vinegar in a medium-size saucepan. Cook over medium-low heat, stirring often, until thick. Combine the vegetable oil, lime juice, zest, salt, mustard, and tofu in a blender, and blend well. Add half of the hot flour mixture to the blender and blend. Add the remaining flour mixture and blend again. Use at room temperature or cooled in the refrigerator. Homemade vegan mayonnaise will keep in the refrigerator for about 4 to 5 days. Yields about 2 cups

Recipe courtesy of John Schlimm from 'The Ultimate Beer Lover's Happy Hour'.
Check out more of our great onion recipes!