Four New York textile-design students aim to revolutionize the textile world in the next few months — all with the power of onions and their project on sustainable fashion.
Their project, part of a partnership with textile studio Fragmentario through the students' Master of Fine Arts in Textiles program at Parson's School of Fashion Design in New York, has taken a natural turn, encapsulated in a growing movement on sustainable fashion, with one common denominator: onion skins.
Onion Power
  Onion skins have been used as a natural dyeing agent for the likes of Easter eggs and fabrics for years. Red onion skins give a range of colors from pink, to burgundy to brown and sometimes green. Yellow onion skins give a range of golden and orange colors. 
  Known for using food-waste items like onion skins and avocado seeds to color fiber, New York based artist María Elena Pombo, a Parsons graduate herself, opens her studio, Fragmentario, for these students during their master's education in a practicum environment in which they work on real-world projects. Pombo said she opted for the students to work with onion skins after realizing they all came from some top onion producing countries in the world: USA, India, China and Japan. Read more about the Onion Society project here.
How it started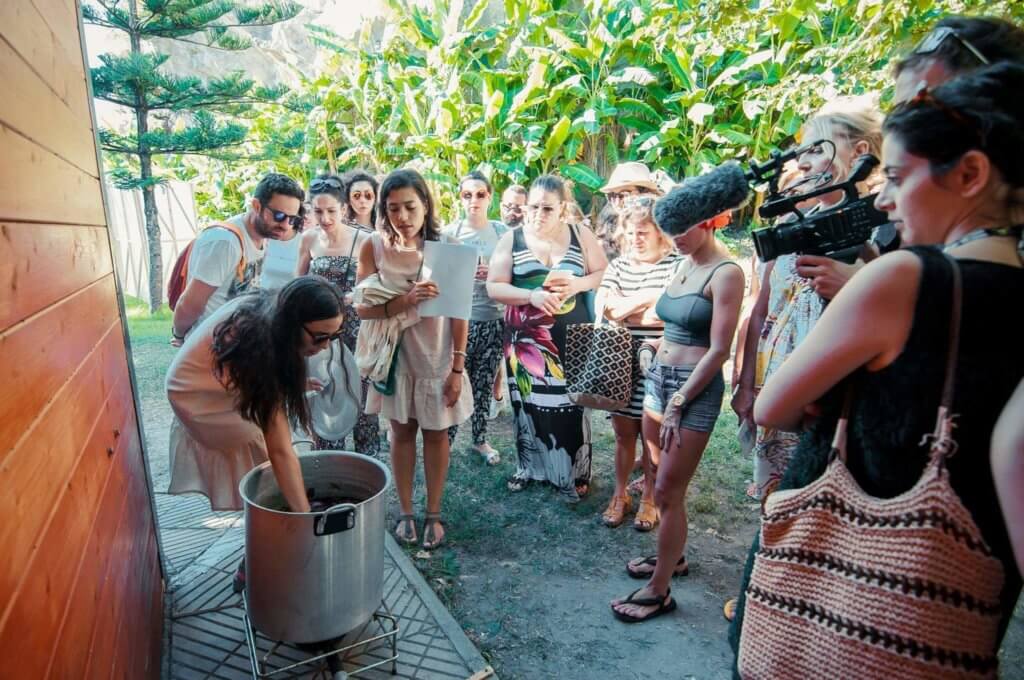 "I go very often to the south of Italy, where people have a very strong connection with their local onion," Pombo said.  "Whenever I have a workshop on dyeing with onion skins there, the people are most excited about discovering this secret property of their beloved plant. This has made me re-think how we can relate to nature and culture in a different way. I asked, 'How do a group of artists from the USA, China, Japan and India use onions to explore themselves and communicate these ideas with others?'"
  The students showed off their work during New York Textile Month in September 2019  in New York City. They created yarn, clothing, rugs and tapestries.
    "It's just building a new world of how to interact with something we kind of take for granted and really enriching our sensory perception with this vegetable," says Tess Murdoch, one of the students working on the project.  
Sustainable fashion
    There's an entire movement for sustainable textiles, demanding ethically produced clothing, but also environmentally-friendly fabrics and dyes.  Modern-day fashion continues to be more geared toward "fast fashion." But on a smaller scale, a trend of natural dyes can only grow.  "We're all converts for life," Murdoch said, noting that onion skin dying has replaced their love for any other dyes.
    Student Lori Luo is from China. She has gained interest already from her Instagram friends when she shows off pictures of the creations on social media.
   "Maybe we can change our little world surrounding us," Luo said. "I'm interested in the onion's layers, and the texture of onion skins. I make a set of layered garments and will apply cell-like stitches. I connect those layers with Chinese traditional culture. In ancient times, people loved to wear a lot of layers," she said. "With some skills people could see their own skins through give or six layers, which is also similar to onion skins."
How to make onion skin dyes
    Pombo says the process of making onion skin dye is as personal as how home cooks make their favorite dish. Each cook is different and may put a little different flare on the dish. For Pombo, she needs pots, water and onion skins. She soaks the onion skins in water first. She heats it up like a tea, then discards the skins (which can be easily re-used in compost) and douses her fabrics. To alter the final color, she uses items such as baking soda and lemons. The non-toxic options are endless, so the product is always natural — enough to go back into the earth without affecting nature negatively. 
Sustainable fashion is good for the planet
    Sam Easwaran is originally from India. On a recent trip back home, she said, she created three dye pots. "My mom insisted on using the water to pour back into the soil. It has no chemicals, so it's just giving more nourishment back to the soil. My mom actually saved some of the water for her hair."
    Added Japanese student Terumi Saito, "I hope that maybe this project will be a good stepping stone to (show) people that natural dye can make these beautiful colors and products and open up their minds."
    New York Onion Farmer Chris Pawelski hadn't heard of using onion skins in such a way before. 
    "Here in New York, they are dumped in piles in the fields nearby and literally blow away or eventually break down," Pawelski said. "Having a use for them is great!"