Eating salads can be a tough habit to continue. But we know the many ways to make your salad more interesting. That way, you never have the same salad twice! If you need recipe ideas, go to our recipes page and find our 15 tasty salad recipes.
Turn your kitchen into your own salad bar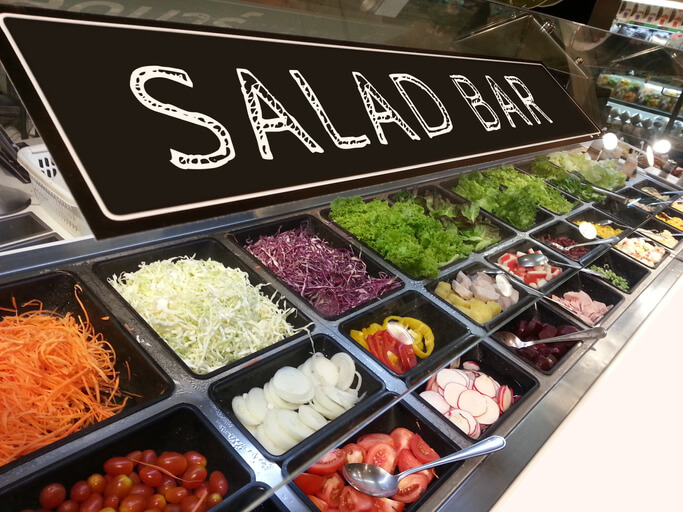 Remember the many salad bars you've visited through the years. They knew how to dress up a salad. There were items on the salad bar you never thought possible, like crunchy dried noodles, or sunflower seeds, or blocks of cheese, sliced raw onions, or diced boiled eggs.
The key to making your salad more interesting is by adding flavors and textures in different combinations. Anything goes, really. You'd already learned how easy it is to get your five a day, but you also need to shake it up to keep your appetite for salads growing. It's really as simple as stocking your pantry with interesting add-ons, such as nuts (there are so many kinds to keep it fun), dried fruits, meats and dressings. Find some great bacon bits, or cheese croutons, and you could round out any salad nicely.
Different day, different salad and the many ways to make your salad more interesting
You can really mix things up by making your salad different every day. Start with a big tub of your basic salad. Put in the basics, such as your lettuces, leafy greens, or cabbages. Then have containers of vegetables you like, sliced, diced and ready to go. If you're sticking to that five a day, add 1 cup of your basic salad and a half cup of the vegetables. Keep as many in your fridge as possible to mix it up.
Then the fun begins. Do you like roast beef, or turkey, or leftover chicken, or boiled eggs, or tofu as your protein? How about shrimp? Or Salmon?
Next, try dried fruits. Do you think salmon would taste good with dried, diced apricots and walnuts? Would turkey go well with craisins and maybe some shredded cheddar?  Do you have a penchant for roasted pumpkin seeds? That's a great way to spice up a salad.  
You can add pastas or grains, too. This article spells out 12 tricks to really keep your salad from getting boring.  
However you mix it up, you can ensure you never lose your taste for salads. The National Onion Association also has 15 salad recipes online to get you started, or at least keep the new flavors coming.