With summer wrapping up and the holidays quickly approaching there are lots of opportunities for potlucks and entertaining. One of our favorite things to bring are appetizers and small bites.  These Sweet Onion Tomato Tartlets are perfect for any gathering.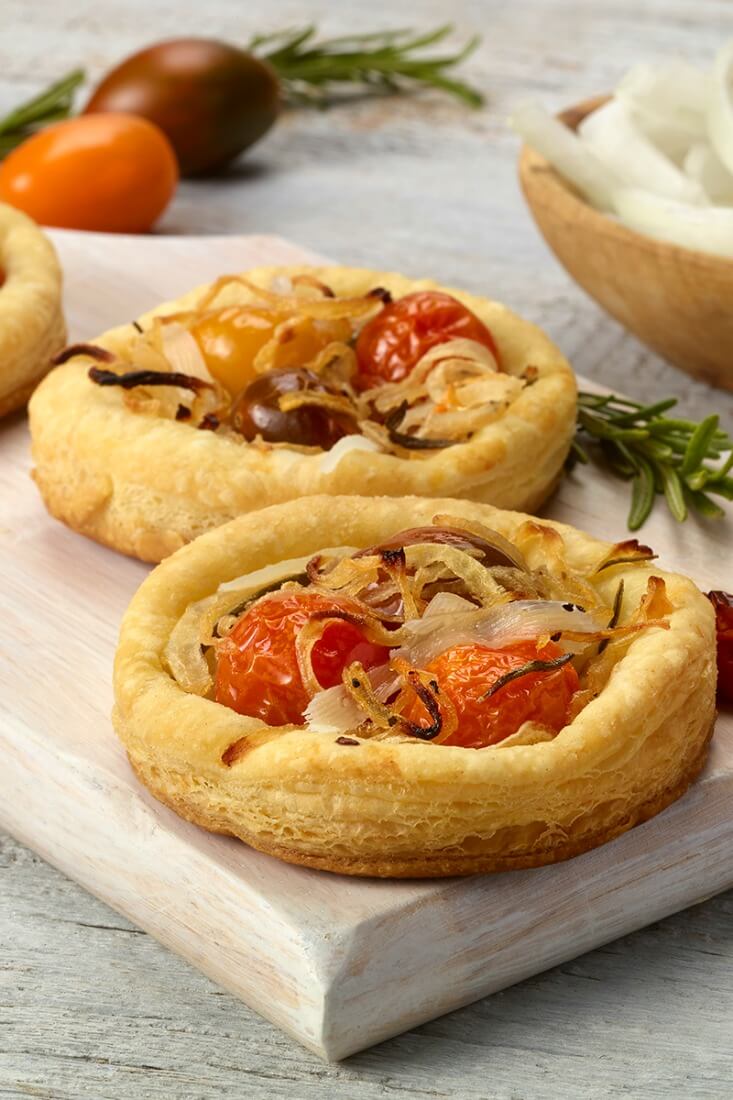 Small Bites: Sweet Onion Tomato Tartlets
Getting together with co-workers, friends and family are great opportunities for fun and relaxation. This is also a great time to try out new recipes and introduce a few of your favorites to others.  Sweet Onion Tomato Tartlets are not only easy to make using already prepared pastry sheets but they are amazingly delicious.
These tartlets make for a light and delicious snack while not holding back in flavor.  Talk about a savory bite of yum! This is a great vegetarian appetizer that can be changed up a bit by adding your favorite ingredients.  You can go as bold as you like and really cater to your preferred tastes.  The sweet onions have a beautiful roasted flavor that will compliment anything.
Makes about 18 tartlets
Ingredients 
3 cups grape tomatoes
1 sweet onion, quartered and thinly sliced (about 2 cups)
2 tablespoons olive oil
1 tablespoon snipped fresh rosemary
½ teaspoon salt
½ teaspoon ground black pepper
1 tablespoon red wine vinegar
1 package (2 sheets) frozen puff pastry sheets, thawed
Manchego cheese shavings
Preparation 
Preheat oven to 400 degrees. Prick tomatoes with a fork or the tip of a sharp knife. In an ungreased 15 x 10 x 1-inch pan, combine tomatoes, onion, oil, rosemary, salt and pepper. Roast for 25 to 30 minutes or until onion is tender. Remove from oven. Sprinkle with vinegar, cool.
Meanwhile, line a large baking sheet with parchment paper. On a lightly floured surface, unfold puff pastry. Using a 3-inch round cookie cutter, cut pastry into rounds. Place rounds on the prepared baking sheet.
Spoon about 2 tablespoons of the roasted tomato mixture onto each pastry round. Place onion first, then tomatoes and then top with more onion. Bake for 15 to 20 minutes or until edges are puffed and golden brown. Let stand on baking sheet for 5 minutes before serving. Garnish with cheese.
These Sweet Onion Tomato Tartlets are adorable and taste scrumptious, they'll be sure to be conversation starters.
What are your favorite appetizers and small bites?