Fall is slow cooker chili season!
One of the best game day foods is a bowl full of warm chili. Of course we are big fans because it's the type of meal that is even better when loaded with onions!
This isn't your average slow cooker chili recipe! We went all out for a delicious version that is rich and hearty with tender cubes of sirloin steak. The meat and beans are simmered in the slow cooker with plenty of chopped onion. Then, it gets a second hit of flavor with a generous sprinkle of diced onion just before being served with a little cilantro.
If you would rather have a vegetarian slow cooker chili, we have you covered. We've provided a variation for a chili that is equally as hearty and delicious without the meat.
Regardless of which version you choose, this chili is a simple game day dish that you can toss in the slow cooker first thing in the morning. It will be ready by afternoon kick-off. Eat it at a party you are hosting or take it along to your tailgate.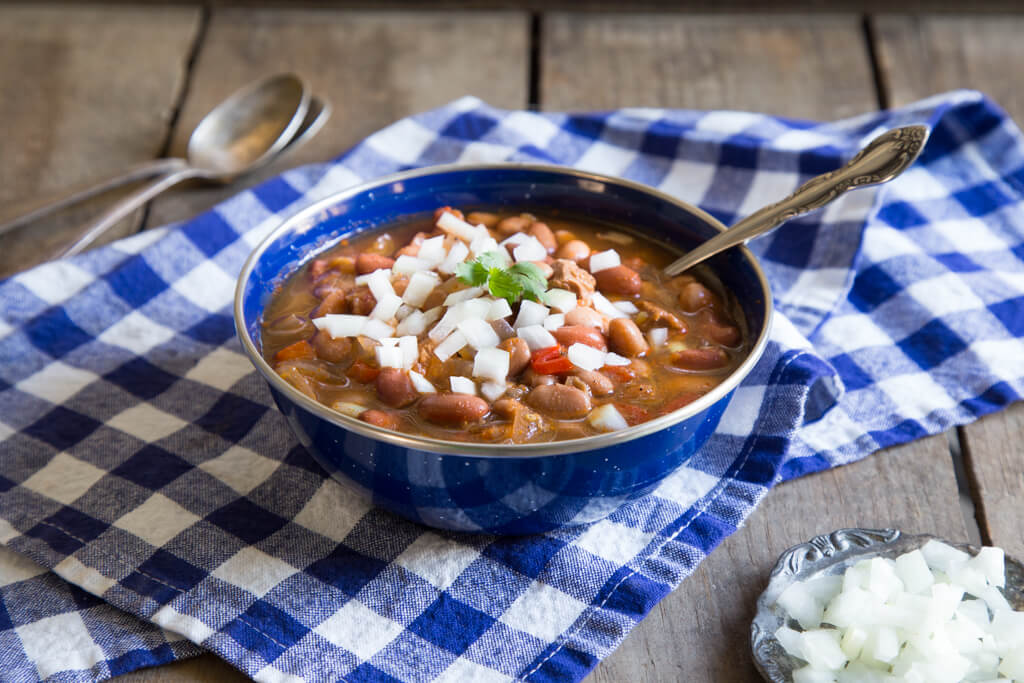 Yield:  6 servings
Preparation time: 20 minutes, plus soaking the beans overnight
Cooking time:  7 to 9 hours
Ingredients
1 cup dried pinto beans, sorted and rinsed
1 cup dried red kidney beans, sorted and rinsed
1 1/2 pounds beef sirloin or pork loin, trimmed and cut into 3/4-inch cubes (about 3 1/2 cups)
1 pound yellow or white onions, coarsely chopped
1 red bell pepper, seeded and diced (about 1 1/3 cups)
1 1/2 tablespoons chili powder
1 tablespoon ground cumin
1 1/2 cups prepared salsa
5 cups water
1/2 to 1 teaspoon salt
For garnish:  diced onion, chopped cilantro
Preparation
At least 6-8 hours (or overnight) before cooking:  Place dried beans in a bowl and cover with enough water to stand 2-inches above beans.  Soak 6-8 hours or overnight.
Drain beans, place in a 5 to 6-quart slow cooker. Add meat, onion, bell pepper, chili powder, cumin, salsa, and water. Cover with the lid. Turn on high setting for 7 to 9 hours, or until meat and beans are fork tender. Stir in the salt to taste.
Serve in bowls topped with diced onion, sour cream, and cilantro.
Vegetarian version: Omit the meat. Add 1 cup canned or frozen chopped and drained mild green chiles, 1/2 cup brown rice, and an additional 1 cup of water. Cook as directed above.
Images by Lori Rice for the National Onion Association