One of the main obstacles to managing weight is not taking the time to plan and prepare healthier meals. Research shows us when people are able to cook their own food and eat at home their diet is typically lower in calories and higher in nutrients. Also, adding more nutrient-rich, low calorie fruits and vegetables to meals is one of the easiest ways to help control calorie intake.
Try to set aside an hour or so at the beginning of each week to plan out your menus and create a shopping list. Make sure to add in at least 5 daily fruit and/or vegetable options to pump up the nutrition.
Most people find the dinner meal is the most difficult to execute, especially after a busy day at work and with other family obligations. To take the hassle out of this equation we've put together a 7-day family-friendly dinner menu to get you started. Each meal is approximately 500 calories based on the portions indicated and we've included 2 servings of fruits and/or veggies in each meal. Enjoy!
7-Day Family-Friendly Dinner Menu – Delicious and Helps with Managing Weight:
Day 1: – 4 oz. – Roasted Pork Tenderloin
– 1 small Baked Potato topped with 2 T. light sour cream
– 1 cup – Broccoli Florets, sautéed with 1 T. olive oil
Day 2: – 1 serving – Frittata with Onion, Tomato and Basil
– 1 – Whole Grain English Muffin w/ 1 t. soft olive oil spread
– 1 cup -Fresh Berries
Day 3: – 1 – 4 oz. lean Hamburger on Whole Grain Bun
– 1 serving – Gazpacho Salad
Day 4: – 1 serving – Cheese and Spinach Ravioli
– 1/2 cup – Veggie Pasta Sauce
– 2 cups – Tossed Green Salad with tomato and red onion; 2 T. Light Italian Dressing
– 1 cup – 1% Milk
Day 5: – 2 – Beef & Veggie Tacos
– 1/2 cup – Corn
– Sparkling Water with Lime
Day 6: – Garden Style Fish w/ Onions and Bell Peppers
– 3/4 cup – Instant Brown Rice
– 1/2 cup – Pineapple Tidbits
– 1 cup – 1% Milk
Day 7: – 4 oz. – Grilled Chicken Breast
– 1 Whole Grain Dinner Roll
– 1 serving – Grilled Vegetables w/ Balsamic Dressing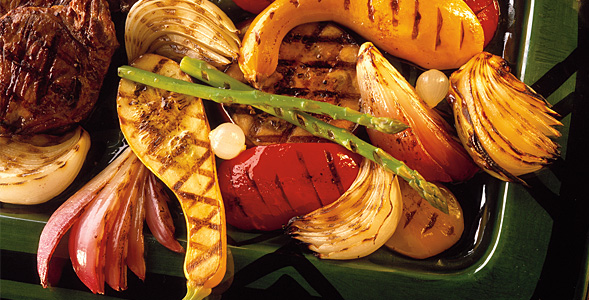 – 1 cup – Melon Chunks