If you hadn't heard, Americans on average eat about 22 pounds of onions per person per year. That kind of onion consumption helps keep a body healthy by providing necessary vitamins and nutrients to ward off heart disease and cancers and also keep the gut working at optimum speed.
Here's an easy way to get your onion consumption up to par in just one week out of each month. Buy 2 pounds of onions (that's roughly 4 onions in your cart). Mix them up by color, keep them all the same — every onion is good for you. Since cut onions have a refrigerator shelf life of about seven days, you can be rest-assured you will not have to waste anything if you set out a good plan.
For that one week, use your onions strategically to use all of them and reduce spoilage, and get the vital nutrition your body needs.
First, halve one onion. Dice one half to add and store in the refrigerator. Use small doses of diced onions throughout the week to add spice and flavor to omelets or frittatas or tacos or salads.
Take the other half and slice up for your lunchtime sandwiches. Onion slices go great with deli roast beef and turkey.
Use the second onion to make a wonderful Basil, Walnut and Onion Pesto, which will go great on those lunchtime sandwiches as a spread, or with crackers for an afternoon or evening snack.
The third and fourth onions can easily be incorporated into dinners. Cooking two full meals for the week will give plenty of leftovers for the rest of the week to minimize your time in the kitchen. A couple of dinner ideas include Turkey and Onion Meatball Kabobs and High Protein Quinoa Salad
Or, go simple. Cut your fourth onion into large chunks and sauté with red or green peppers to garnish your protein (chicken, shrimp or steak).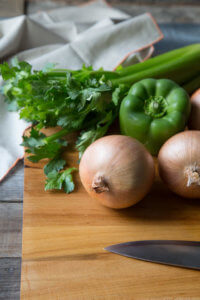 Two pounds of onions, massive amounts of flavor and all the protection your body needs to keep it healthy — in just one week out each month.