What is better than a creamy luscious potato gratin?
A creamy luscious potato gratin baked in a sweet onion!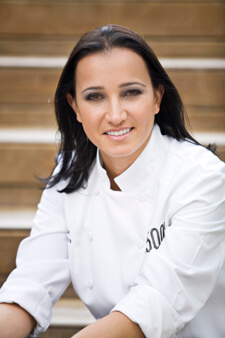 That's what young and talented Executive Chef Paula DaSilva brought to the menu at the chic new farm to table eatery 1500° located in the renovated historic hotel, Eden Roc Renaissance in Miami Beach. And, this week it's my pleasue to introduce you to her.
Chef DaSilva's stuffed Sweet Onion Potato Gratin is one of the signature sides on her menu designed around farm fresh ingredients as well as steakhouse influences. "I work hard to keep the menu offerings at 1500° exciting but familiar and love serving a traditional dish in an unusual but approachable new way," says DaSilva. "The gratin stuffed onion is so decadent and delicious, it just oozes when you cut into it. The guests love it."
Stuffed Sweet Onion & Potato Gratin
From Executive Chef Paula DaSilva
1500° at Eden Roc – Miami, Florida
Yields 6
INGREDIENTS          WEIGHTS/MEASURES
Yukon potatoes  3
Cream  1 cup
Horseradish  1 tablespoon
Minced garlic  1 tablespoon
Gruyere cheese  1/2 cup, grated
Salt  to taste
Sweet yellow onions  6 medium, whole
Milk  2 cups
Bay leaves  2
Water
Olive oil
Salt & Pepper  to taste
METHOD:  Peel and thinly slice the potatoes.  Bake in a small covered dish with the cream, horseradish and garlic at 325 degrees F for about 25 minutes.  Remove the potatoes from the oven.  Mix in the cheese until melted and season with salt to taste.  Let the mixture cool and then refrigerate.
Place whole, unpeeled onions in a large pot.  Add milk, bay leaves, a bit of salt and enough water to cover everything.  Bring the mixture to a boil;  turn the onions down to a simmer for 10 minutes.  Remove onions from the heat and let them cool in the liquid.
When cooled, remove onions from the milk.  Peel and core the onion from the bottom, leaving about 1/2-inch of onion all around.  Carefully stuff the onions with the potato gratin mixture.  Place the cut side down in a baking dish and season the onion on top with some olive oil, salt and pepper.
Bake the onions in a 350 degree F oven for 10 minutes before serving.