Onions have a range of flavors, colors, and sizes.  Seasonal differences like flavor and texture are noticeable, especially right now!  Sweet, mild, or spicy, and yellow, red, or white,  and from super colossal to pearl – onion grown in the U.S. are available year-round.
March is the time of year when these differences are most prominent as onion supplies transition from Fall/Winter harvested varieties to Spring/Summer varieties.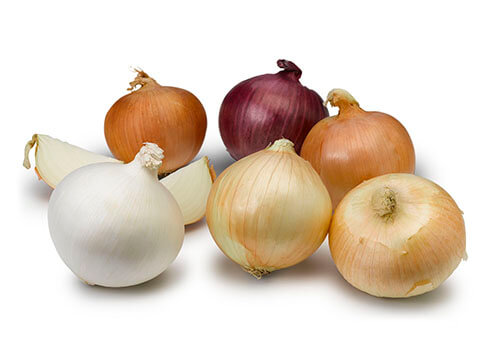 Here's an easy way to think about the seasonal differences of onions grown in the U.S.
Spring/Summer Onion Traits*
Availability:  March through August
Skin: one or two thin, often transparent layers, lighter in color, esp. yellow varieties
Water Content: high, which leads to a shorter shelf-life (30-60 days), easily bruised
Flavor: sweet to mild
Best Uses: raw, pickled, lightly-cooked or grilled
*Many specialty sweet onions are part of this category and are sold under a specific trade name or label.  Some domestic varieties, and all imported onions with these traits are offered other times throughout the year.
Fall/Winter Onion Traits
Availability: August through May
Skin: multiple, paper-like layers, darker in color, esp. yellow varieties
Water Content: lower than Spring/Summer, which gives them a longer shelf-life
Flavor: mild to pungent
Best Uses: caramelized, roasted, fried or any dish with a longer cook time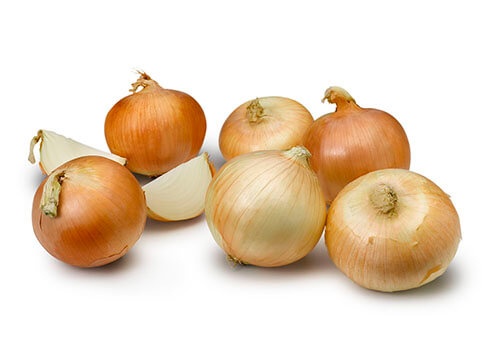 Notice in the image above, how the skin color varies. On the left, the onion in front and the ones behind it are Fall/Winter types. The other two in front, towards the right are Spring/Summer varieties. Another difference is their shape.  Most Fall/Winter types are globe shaped.  Many, although not all, Spring/Summer types are flatter in shape.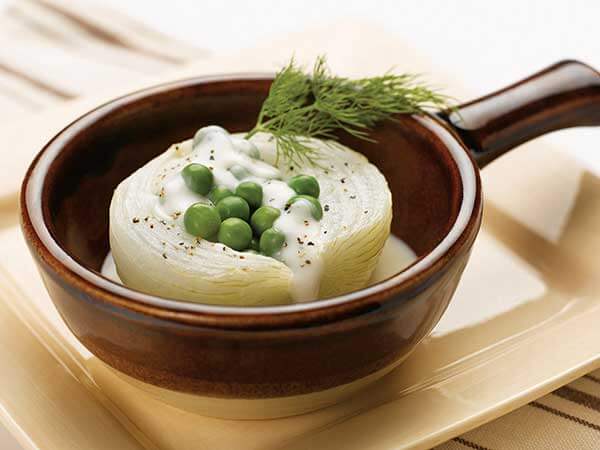 Naturally, the best thing about an onion, no matter what color, season, size, or shape is what they lend to our cooking.  We can't think of many other vegetables as versatile as an onion, can you?
Spring is a great time to try new things, and when comes to food it seems our taste buds crave fresh flavors that burst with the season.  These are a few of our Springtime favorites:
Creamed Peas in Onions (pictured above)
Irish Nachos with Cider-Braised Onions
Chilled Salmon Salad with Orange Citrus Onions