Did you know that onions are seasonal? Onions vary in color, flavor, size, and time of the year harvested. Spring and summer onions are different from fall and winter onions. Spring and summer onions have a sweet to mild flavor. Many sweet onions are sold under a specific name like Walla Walla or Vidalia. California and Texas sweet onions kick off the sweet onion season. They are followed by Vidalia and Walla Walla Sweet Onions.
An important tip to remember about sweet onions is that they have a higher water content than most onions. This causes them to have a shorter shelf life and makes them bruise easier.
For more information on onions be sure to check out this link All About Onions.
Sweet onions are very versatile. They can be served raw, sauteed, lightly cooked, or grilled. They can also be added to recipes like this simple and delicious beer bread. Make it for your next dinner party, cookout, or even as an appetizer for the big game.
If you have any left overs, use the bread to make a delicious and flavorful sandwich.
Make sure to pin our image below so you'll be ready to make an easy and delicious bread next time you entertain.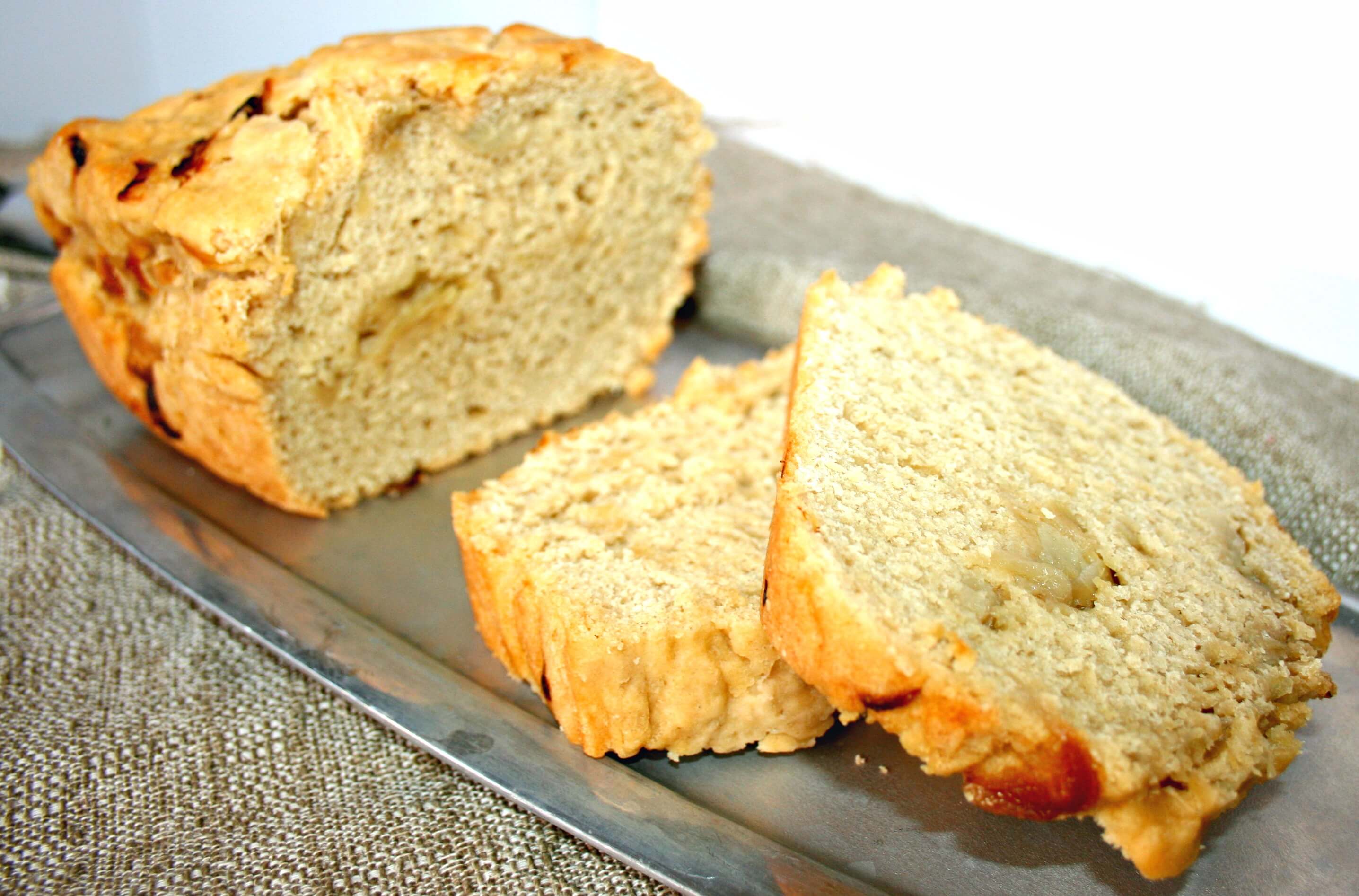 Sweet Onion Beer Bread
Ingredients: 
2 tsp+ 2 Tbsp extra virgin olive oil, divided
1/2 large sweet onion, thinly sliced
1 Tbsp minced garlic
1-1/2 cup white whole wheat flour
1-1/2 cup all purpose flour
3 Tbsp sugar
1 tsp salt
1 Tbsp baking powder
1 can of beer
Directions: 
Preheat oven to 350 degrees.
Grease a bread pan with nonstick cooking spray. Add 2 tsp of olive oil to the pan to evenly coat the bottom of the pan.
Cook 1/2 of the onion in 1 Tbsp olive oil in a large skillet over medium high heat. Stir the onion frequently until they begin to brown. About 5 minutes.  Reduce the heat to low and continue to cook until the onions are soft and a medium brown color. 20- 25 minutes.
Add garlic and saute for 1 minute.
Whisk together the flour, sugar, salt, and baking powder. Slowly pour the can of beer into the dry mixture. Mix well. Add the garlic and onion to the batter. The batter should be sticky. Pour the bread batter into the greased pan. Drizzle the batter with remaining 1 Tbsp of olive oil.
Bake for 50 minutes or until a tooth pick inserted into the bread comes out clean. Let bread cool for 10 minutes. Then remove it from the bread pan.
Serve warm with butter.