Spanish Sofrito is a mix of onions, peppers, garlic, and tomatoes. Combined, these ingredients are used as a cooking base for many delicious meals!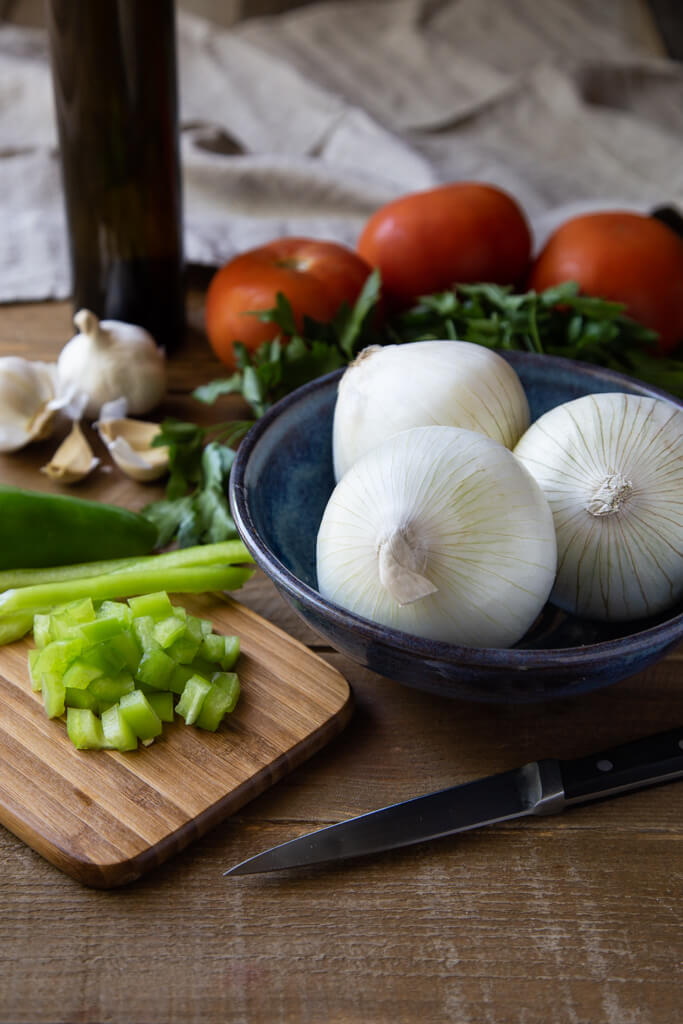 We have had a lot of fun exploring Onions Around the World this spring and we hope that you've been able to join us for the ride. Our last stop takes us to Spain and the aromatic onion cooking base, sofrito.
Spanish sofrito combines onions, peppers, garlic, and tomatoes. It is sauteed in fat such as olive oil or butter. While sofrito becomes like a sauce that would be delicious as a condiment, it is most often used as a starter for Spanish meals such as chicken and rabbit, salted cod with tomatoes, and seafood stews. Like the Puerto Rican Recaito we shared, it is also blended into a filling for empanadas.
We use white onions in our sofrito and while you can substitute two cups of canned, crushed tomatoes, we like to use fresh tomatoes in summer. It is a great way to put garden tomatoes to good use!
Most types of tomatoes work well, and we use standard red beefsteak tomatoes. Just keep in mind that the ripeness and type of tomato you use can influence the cooking time needed to break them down. It also plays a role in the amount of liquid influencing the thickness of the final sofrito. If the sauce seems too thick, this can easily be corrected with a little water or additional olive oil.
For other ingredients, any type of sweet green pepper can be used, but the simplest and most readily available is a green bell pepper. Herbs and spices such as bay leaf, parsley, and smoked paprika can be added as the sofrito evolves into a final recipe. All of the ingredients are pureed into a rich sauce.
We'll be using our Spanish sofrito to make a simple Chicken and Shrimp Paella. That recipe is coming soon for an easy stovetop summer meal!
Spanish Sofrito
Makes about 1 ¾ cup
Ingredients
4 tablespoons extra virgin olive oil
1 large white onion, chopped
1 medium green bell pepper, diced
3 garlic cloves, minced
3 large tomatoes, chopped
2 tablespoons flat-leaf parsley, chopped (optional)
½ teaspoon fine sea salt
Preparation
Warm 2 tablespoons of the oil in a large, deep skillet over medium-high heat. Add the onion and bell pepper and cook for 5 minutes, until the vegetables begin to brown and soften. Stir in the garlic and cook for 1 more minute. Add the tomatoes.
Reduce the heat to medium and cook, stirring often, for about 10 minutes. The tomatoes should soften and break down. Keep in mind that riper tomatoes make take less time to break down. At this point, the sofrito will look like a thick, chunky sauce.
Stir in remaining 2 tablespoons of olive oil, the parsley, if using, and the salt. Remove from heat and let cool for 5 minutes. Transfer to a blender and puree until smooth. Transfer back to the skillet to use as the base for your Spanish recipe!
Recipe and images by Lori Rice for the National Onion Association.