In honor of the smash-off this weekend between the Pittsburg Steelers and the Green Bay Packers, I thought "Hey, what could be more appropriate for a Super Bowl party than some really hip salsa and dip!?"  Since, I didn't have a better come back answer, here are a few of my favs to make your party dance right into the end zone with the winning team!    
Grilled Onion Salsa     
Ingredients:       
2 large onions, sliced
2 large tomatoes, chopped 
1/4 cup seeded jalapeno peppers, chopped 
1/4 cup fresh cilantro, chopped 
1 teaspoon cumin seeds 
fresh squeezed lime juice 
salt    
Directions: 
Grill the onion slices. Coarsely chop the grilled rings and mix with the chopped tomatoes, jalapeno peppers, cilantro, and cumin seeds. Season with salt and fresh lime juice.  Makes about 3-1/2 cups.       
Ina Garten's Caramelized Onion Dip  
This dip is best when made the day before it's to be eaten so the flavors really deepen.  I love to serve this dip with salt and pepper flavored kettle chips!  
Ingredients:
2 tablespoons unsalted butter
1/4 cup vegetable oil
1/4 teaspoon ground cayenne pepper
1 teaspoon kosher salt
1/2 teaspoon freshly ground black pepper
1 teaspoon Dijon mustard
1 teaspoon balsamic vinegar
4 ounces cream cheese, room temperature
1/2 cup sour cream
1/2 cup mayonnaise  
Directions:
Cut the onions in half and then slice them into 1/8-inch-thick half-rounds.  (Yielding about 3 cups of onions) Heat the oil and the butter in a large sauté pan over medium high heat (it works better to NOT use a non-stick pan).  Add the onions, cayenne, salt and pepper and sauté for 10 minutes.  Reduce the heat to low and continue to cook for 20-40 minutes, stirring occasionally, but not too often or until the onions are browned and caramelized.  Add the Dijon mustard and balsamic vinegar and continue to cook for about 10 more minutes.  Allow the onions to cool.  Note the onions will be really dark because of the balsamic vinegar.        
In a large bowl combine the cream cheese, sour cream and the mayonnaise.  Whisk until smooth.  Add all of the onions, reserving about a tablespoon for garnish, into the cream cheese mixture.  Stir to combine and mix well.  Transfer to a serving dish and top with reserved onions.  Refrigerate overnight to allow flavors to combine.  Serve at room temperature with potato chips.   Makes 2 cups.    
Spicy Onion Jam from EatingWell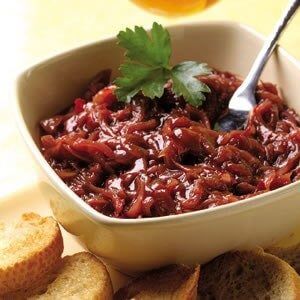 <
Ingredients:
2-4 dried ancho chiles, stemmed, seeded and broken into pieces
1 cup pomegranate juice
2 tablespoons extra-virgin olive oil
2 pounds onions, thinly sliced (see Kitchen Tip)
1 tablespoon brown sugar
1 tablespoon distilled white vinegar
1/2 teaspoon salt  
Directions:
Any type of onion will work for this chile-and-pomegranate-infused jam. Spread crostini with goat cheese and top with the spicy-sweet jam for a quick appetizer or tuck some into a steak taco. If you're a fan of spicy foods, use the full amount of ancho chiles.  
Place chiles in a small dry saucepan over medium heat. Cook, stirring occasionally, until fragrant, about 2 minutes. Add pomegranate juice and bring to a boil; cover and remove from the heat. Let stand for 20 minutes. Transfer to a food processor or blender and puree until smooth.   
Meanwhile, heat oil in a large skillet over medium-high heat. Reduce heat to medium-low, add onions and cook until very soft and lightly browned, about 30 minutes. Add sugar and vinegar and cook until the sugar dissolves, about 1 minute. Increase heat to medium; add the chile puree and cook, stirring occasionally, until thickened, about 4 minutes. Stir in salt.  Makes 2 cups.