In the mood for a fiesta?!  These sizzling fajitas are perfect for Cinco de Mayo, yet simple enough for any meal occasion.  Who knows, they just might be your new 'go-to' for dinner.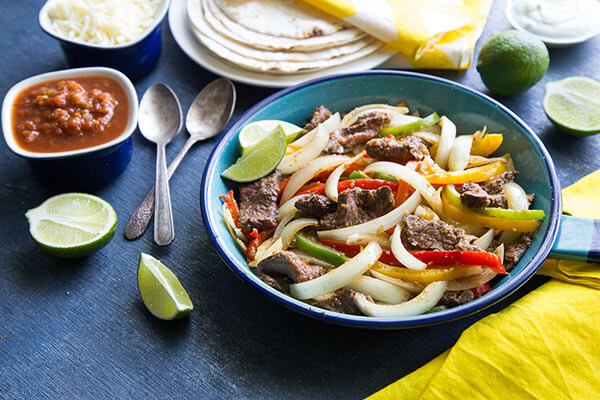 Lean steak is marinated in a blend of onions, garlic, peppers, and lime juice for tender slices of meat. Then, even more delicious onions are sautéed with colorful bell peppers. It all comes together in the skillet before filling warmed flour tortillas. Be sure to serve them with your favorite toppings like jack cheese, guacamole, sour cream, and salsa!
The onion-based marinade is delicious! Feel free to experiment by substituting chicken for the steak, or make it a plant-based meal and use sliced mushrooms!  This fajita filling could easily be used as a topping for tostadas, or the ultimate taco salad! Whichever way you choose, one thing is for sure; these fajitas must make their way onto your dinner table soon!
Sizzling Steak and Onion Fajitas
Yield:  6 servings
Preparation time:  15 minutes (plus 2 hours for marinating)
Cooking time:  20 minutes
Ingredients:
Marinated Steak:
1 cup coarsely chopped onion
10 medium to large garlic cloves
5 Serrano peppers, stemmed and seeded
1/2 cup fresh lime juice
2 tablespoons Worcestershire sauce
2 tablespoons packed brown sugar
4 teaspoons chile powder
1 ¾ lb. top sirloin steak, about 1-inch thick
Fajitas
2 tablespoons unsalted butter
2 tablespoons olive oil
3 medium onions, cut into narrow wedges
2 to 3 bell peppers thinly sliced
12 flour tortillas, warmed
2 limes, wedged
1 lb. Monterey jack or jalapeno jack cheese, grated
Sour cream and salsa for serving
Preparation:
For marinated steak:  In a food processor, finely chop the onion, garlic and peppers.  Add remaining marinade ingredients and process to blend.  Reserve half of marinade and refrigerate.  Spread remaining half of marinade on steak, coating all sides.  Pierce steak with a fork for extra marinade penetration, if desired.  Cover and marinate in refrigerator from 2 to 12 hours.
Remove steak and discard meat marinade.  Warm an outdoor grill, or grill pan on the stove to high heat. Grill the steak for 8 to 10 minutes or until desired degree of doneness.
At the same time, heat butter and oil in a large skillet over high heat.  Add onions and peppers, sautéing for 6 to 8 minutes until tender.  Add reserved marinade to onion mixture and heat through.  Slice steak across grain into narrow strips.  Toss steak strips with onion mixture in skillet.
To serve:  Fill tortilla with beef-onion combination.  Squirt with lime juice, if desired.  Top with grated cheese, sour cream and salsa.
Images by Lori Rice for the National Onion Association