There's no better time than February to look at the health benefits of onions to make your diet the best can be for Heart Health Month. Onions make a great addition to your meal plans because they not only taste good, they are incredibly good for you. And let's face it, there aren't that many heart-healthy goods that afford so much flavor.
Health Benefits of Onions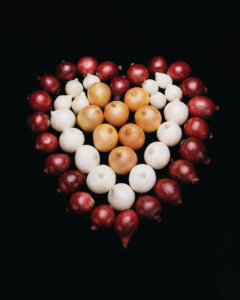 But onions in any shape or form will do your heart good. Their value-added health components are off the charts. Onions are high in Vitamin C, a good source of fiber, and they contain 64 calories per cup. They are naturally sodium, cholesterol and fat free. Onion bulbs have a unique combination fructans, flavonoids and organosulfur compounds that benefit your health.
Here are some of the excellent reasons  to add onions to your meals to help keep your heart healthy this February and beyond.
The organosulfur compounds are primarily responsible for the taste and smell of onions. This compound has shown anti-inflammatory and anti-thrombotic activity, which means they may reduce the risk of blood clots associated with heart disease and stroke.
The flavonoid quercetin is found in all onions. This flavonoid scavenges particles in the body known as free radicals, which damage cell membranes. Studies have shown quercetin to protect against heart disease and several types of cancer with its antioxidant and anti-inflammatory activities.
Read Up on Benefits of Onions
Several recent and ongoing studies into the health benefits of onions are revealing some amazing results.
A 2019 study in China found that regular consumption of allium vegetables (of which the onion is a member) could reduce the incidence of colorectal cancer by as much as 79 percent. The study recommended consumption of 35 pounds of alliums per year. (That's slightly higher than the average American consumption of onions, which sat at 20 pounds per person in 2018).
A study published in August 2019 showed a clear link between onions and garlic consumption and the reduced risk of breast cancer.
The best part of the health benefits of onions are the benefit to your palate. However you cook them, sauté, caramelized, pickled or raw, they will be key contributors to your heart health. Find our recipes here.