Thank goodness you found onions to jazz up your meals with amazing flavor and solid nutrition. But did you know that you could bring an entirely new flavor and onion consistency to your meals by caramelizing them? If you're searching for just the right addition to many of your meals, you'll want to learn these 7 ways to use caramelized onions. Then try our many recipes for yourself.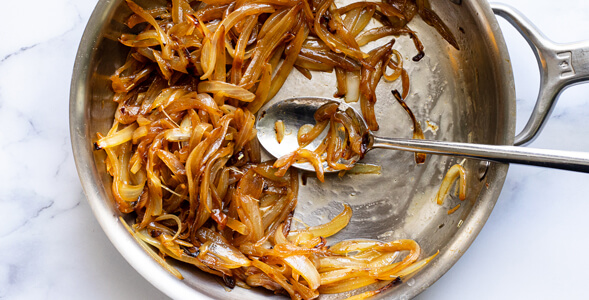 If you've carefully avoided caramelizing onions because you were unsure, or you just didn't want to take the time, we're glad you're taking a second look. Caramelized onions make a great addition to many meals. And, bonus, you can make up a big batch ahead of time to use throughout the week, or freeze them for future gourmet masterpieces.
Try these 7 Ways to Use Caramelized Onions 
These ideas for caramelized onions won't steer you wrong, and may open your eyes to their superpowers:
Use them as a topping for any meats, such as chicken or steak, or pork.
Caramelized onions make a fantastic hummus. Try our Caramelized Sweet Onion Hummus for a great addition to your next get-together snacks.
Pizza, flatbread or tartlet toppings. You may enjoy this Caramelized Onion and Goat Cheese Tartlet recipe from SeriousEats.
This Flemish Caramelized Onion Tart mixes decadently with Gruyere cheese to make for a great vegetarian entree.
Now don't get discouraged. Onions naturally contain sugar, and caramelizing onions brings out those natural sugars to add a sweetness to desserts. This easy Caramelized Onion Brandy Ice Cream recipe will surely surprise you, and it can be used as a savory appetizer to fancy up any meal. We can also point you to this sinfully yummy Caramelized Secret Chocolate Cake.
Onion chutney or jam recipes have come a long way, and make great additions to gourmet sandwiches, or a cheese and cracker plate. Here is our favorite onion chutney recipe: Asian Plum-Onion Chutney.
Burgers and Sandwiches. Caramelized onions add a great flavor balance to your sandwiches and burgers. And, with a little balsamic, this Open Faced Turkey Sandwich with Caramelized Onions recipe, makes for a super healthy and flavorful lunch.
Build in the cooking time before you start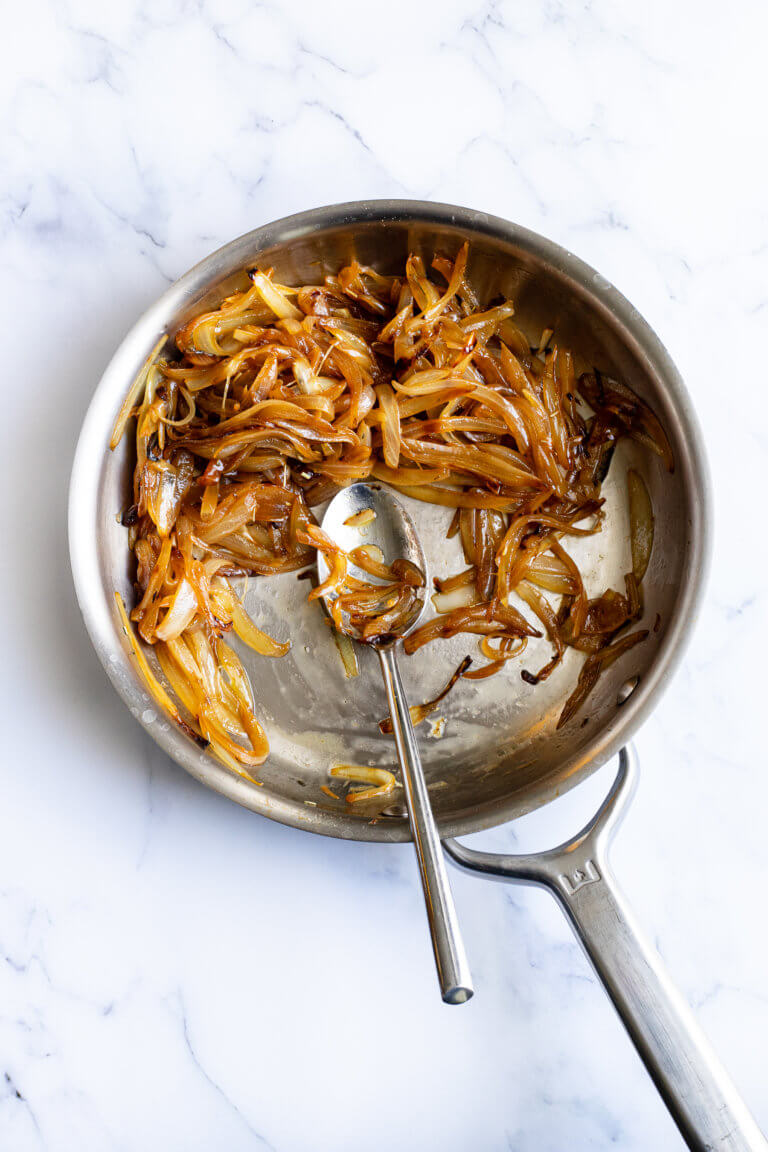 Caramelized onions do take time. So you'll have to exercise the patience factor. Good, luscious, caramelized onions take a good 45 minutes in a slow process. You can certainly try to lessen the time by adding a little baking soda to your onions. This is a delicate process, and can be easily overdone, but it could leave you with some funny tasting onions. We tried out the baking soda method in our test kitchen and found we could get the caramelization process down to thirteen minutes. Try our method here.