We've got a good Cinco de Mayo twist for you. Before you swipe, know that this tostada recipe is different. Hidden in the ingredients to this traditional Mexican meal is a half cup of golden raisins that actually get cooked into a meat mixture, rife with onions and green peppers. See video here.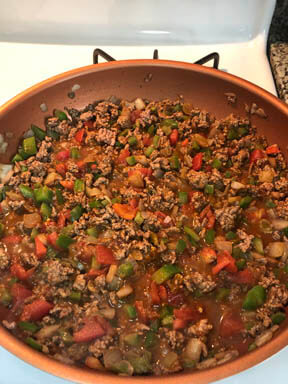 While many of us grew up with fast-food tostadas, these will reform you. They're not too spicy — to satisfy those who can't handle the extra heat — and there are no beans — to satisfy those who just can't do beans (and you know why!).
They don't take too long to make, either — unless you're really into the perfectly sliced avocado. Then all bets are off. The recipe calls for salt and pepper to taste, and you may really want to just count on adding a little salt.
When it's all done, you'll be pleasantly surprised at the taste, as every third bite or so, there's a little tang of the raisin popping onto your tastebuds. It really does work perfectly with the savory of the beef and onion mixture. The raisin is not too overwhelming and just sweet enough to show your guests that you added something special.
You could make these ahead of time to bring to the company potluck. Just keep the shells in a bag and the meat mixture in a slow cooker to keep warm. Happy Cinco de Mayo!