Vidalia onions are so lovely and sweet, we just couldn't resist trying this old recipe for chocolate chip cookies that we found hanging out on a wall at Vidalia Onion Committee museum in Vidalia, Ga.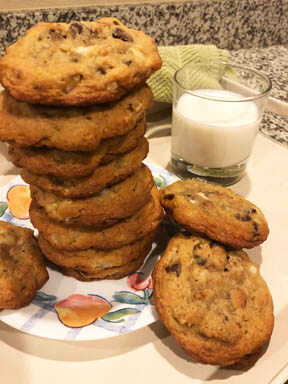 Parents have been sneaking vegetables into foods for years. You probably didn't know all those years ago when mom would serve some sweet zucchini bread that you were actually eating vegetables. Today, they even use cauliflower to make a pizza crust. Substituting apple sauce for the oil was ingenious too!
The idea of pairing The Onion — Nature's Ninja — complete with its power-pack of nutrition and disease fighting skills — to a recipe for chocolate chip cookies was just too tempting. See Video Here.
ADDING ONIONS
Now, you can infuse a little body boosting onion into cookies, of all things, to add more daily nutrition to your family's desserts — probably without them even noticing.
The onions are noticeable to some and not so noticeable to others. In fact, the smaller the dice, the harder it would be to detect.
The recipe calls for a fine dice of the onion, so make sure you have a good, sharp knife. And do read the directions — you must rinse the onions in cold water before adding them to the dough. Since onions are mostly water, they will add quite a bit of moisture to the cookie, so they may take a little longer to fully bake the center.  The recipe below suggests adding dried cranberries to soak up that moisture.
This recipe does, however, demand to be eaten. In fact, these chocolate chip cookies are best served warm, shortly after leaving the oven. Leaving them for a day or so will bring out the onion flavor a bit more, and possible reveal themselves to picky eaters. We tried freezing the cookies to see if they retained their fresh-baked taste. After a couple of days, the onion flavor came out a bit stronger, but still, it complemented the pecans and the chocolate chips more than anything.
GET EATING
This recipe also comes at a perfect time. Vidalia Onion season is upon us. The first shipments will go out April 22. So stock up on the chocolate chips and find yourself a good, sweet Vidalia onion and see how your family responds to this decadent treat.
Vidalia Onion and Georgia Pecan Chocolate Chip Cookies
Ingredients
1 cup butter softened
½ cup sugar
1 cup brown sugar
2 eggs
1 ½ teaspoons vanilla
2 ¼ cup all purpose flour
1 tsp fine salt
1 tsp baking soda
12 oz semisweet chocolate chips
1 cup Georgia Pecans, chopped
1 cup Vidalia onion, diced small
Directions
Preheat oven to 375 degrees. Cream butter, add sugars and beat until light and fluffy. Add flour, salt and soda and mix until well blended. Stir in chocolate chips and pecans.
 Rinse the Vidalia onion with ice water and drain well. Fold the onions into the dough to blend. Drop dough by large spoonfuls on a parchment or wax-paper lined cookie sheet. Bake for 10-12 minutes or until lightly browned (add about a minute to time at high altitudes). Remove from oven and enjoy immediately.  
Note: These cookies are meant to be eaten warm; if you want to keep them past the day you make them, add some dried cranberries to the batter to absorb some of the moisture.