Thanksgiving will soon be here and onions are an essential part of so many holiday dishes. Over the next few weeks, we'll be sharing some of our favorite recipes and plenty of tips for how to use sweet, succulent onions throughout the holiday season.
And we won't stop at your plate. Onions make stunning additions to autumn and winter centerpieces and holiday décor. We have a few ideas up our sleeve for enjoying the beauty of onions as much as you enjoy the delicious taste.
Before we get started, though, let's review the basics. Since onions are available at your supermarket year round, you might be unaware that onions have seasons. Based on when they are harvested, onions grown in the U.S. can be divided into two categories, spring/summer onions and fall/winter onions.
Fall/winter onions are referred to as storage onions and they are available August through May. You can find yellow, red and white storage onions that are characterized by multiple layers of thick, darker colored skin. What makes these onions ideal for storage is their lower water content which gives them a longer shelf-life.
The flavors of storage onions range from mild to pungent. With yellow storage onions you can expect a strong onion flavor, but with a mild aftertaste. Red onions this time of year are typically sharp, spicy and pungent. White storage onions are bold and pungent, but they have a cleaner, crisper flavor than yellow or red storage varieties. Storage onions are best for savory dishes that require longer cooking times. A perfect fit for so many holiday recipes!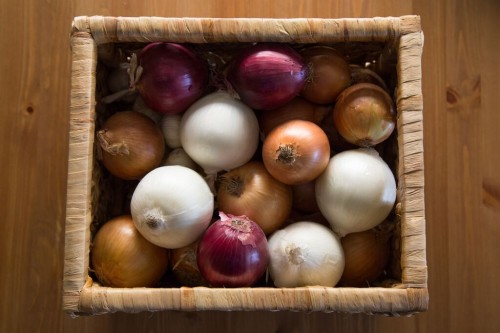 Don't be afraid to stock up on storage onions this time of year. Keep them in a cool, dark place with plenty of air movement and keep them out of plastic bags. These bags reduce airflow and promote spoilage.
Peel and cut the onions only when you are close to cooking and serving them. If you have leftover peeled or cut onions, they can be refrigerated for up to 7 days in a sealed container. So feel free to do a little onion prep a few days before the holiday meal.
Be sure to check back regularly for the delicious recipes and holiday tips we'll be posting over the next few weeks. Follow us on Pinterest  and on Twitter for regular updates.
We also love your feedback! Share how you are making a place for onions at the holiday table and use the hashtag #onionsatthetable!