This creamy, comforting potato and leek soup topped with shrimp starts with German soup greens, or suppengrün!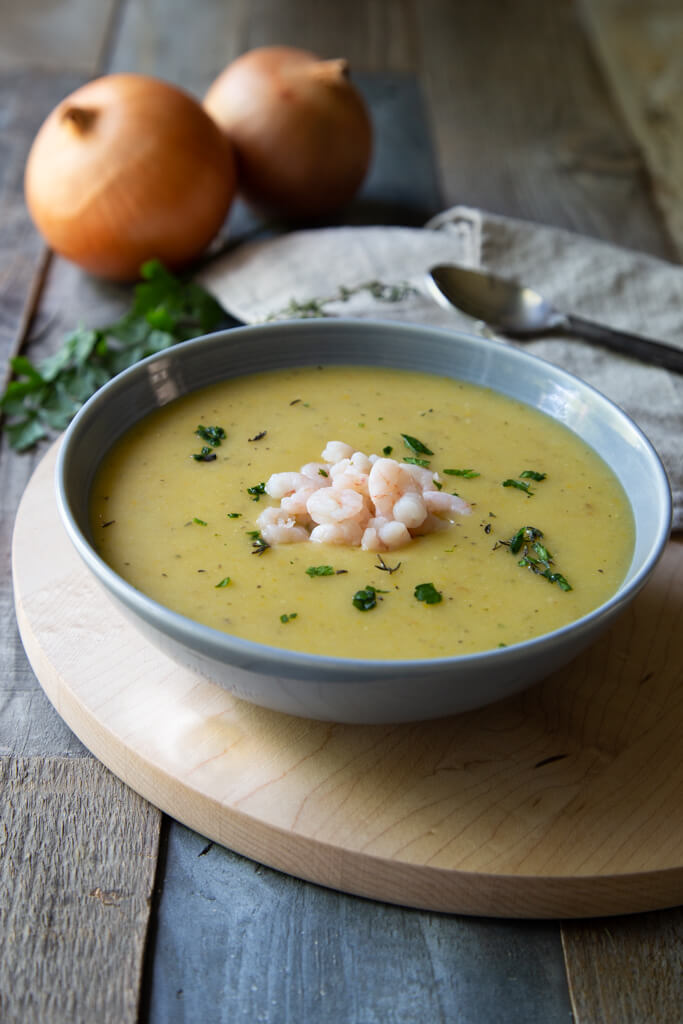 German suppengrün, soup greens, or suppengemüse, soup vegetables, is the base for kartoffelsuppe, a creamy potato soup. We've chosen a version of the soup mit krabben, with shrimp. Once the soup is blended, it is topped with small shrimp for serving. It adds a delicious twist on a classic comfort food.
We've mentioned that traditional bundles of suppengrün contain carrots, leeks, and celery. Onions and herbs are often found along with these core ingredients so we've expanded our base to include yellow onion, parsley, and thyme increasing the depth of flavor. This soup is simple to prepare and it is perfect for serving at lunch, dinner, or even as a starter for brunch.
German Potato and Leek Soup with Shrimp
Serves 4 to 6
Ingredients
2 tablespoons olive oil
1 large yellow onion, chopped
1 medium carrot, peeled and chopped
1 rib celery, chopped
1 leek, white and light green portion sliced
1 teaspoon chopped fresh flat-leaf parsley
½ teaspoon fresh thyme leaves
3 medium gold potatoes, chopped
4 cups unsalted chicken stock
1 cup water
2 teaspoons fine sea salt, or to taste
½ teaspoon ground black pepper, or to taste
¾ cup small cooked salad shrimp, thawed if frozen
Preparation
Heat the oil in a soup pot over medium-high heat. Add the onion, carrot, celery, and leek. Cook for 2 minutes until the vegetables glisten with the oil and barely begin to soften. Stir in the parsley and thyme, and then the potatoes. Cook for 5 more minutes.
Add the stock and water. Bring the soup to a boil and then reduce the heat to simmer partially covered for about 10 minutes, or until the potatoes are very tender. Remove from the heat. Transfer the soup in batches to a blender and puree until smooth. Return the pureed soup to the pot over low heat. Alternatively, you can puree the soup in the pot with an immersion blender.
Stir in the salt and pepper. Add more to taste if desired. Ladle the warm soup into serving bowls and top each with an equal amount of shrimp before serving.
Recipe and images by Lori Rice for the National Onion Association.