Baked White Bean Onion Dip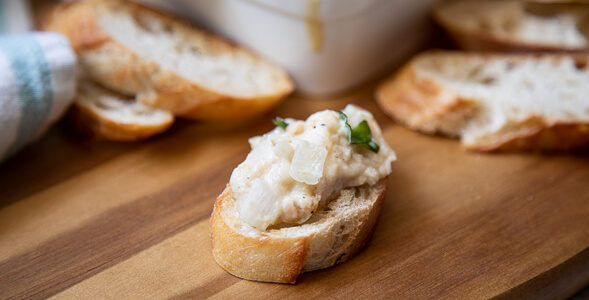 This bean dip is a party favorite when you need a quick starter or an afternoon snack. Rich and creamy, it is loaded with sweet pieces of white onion. It's best served with slices of toasted baguette or your favorite crackers.
Makes: 4 to 6 servings
Preparation time:  10 minutes
Baking time: 35 minutes
Ingredients
1 (15.5 ounce) can cannellini beans, rinsed and drained
1 medium white onion, diced (about 1 cup)
½ cup of half and half or cream
1 teaspoon garlic powder
1 teaspoon ground cumin
1 teaspoon fine sea salt
½ teaspoon ground black pepper
4 ounces Monterey jack cheese, shredded (about 1 cup)
3 tablespoons grated parmesan cheese
Chopped fresh basil or parsley for garnish
Sliced toasted baguette or crackers for serving
Preparation
Preheat the oven to 375 degrees F. Grease a 3 cup baking dish or ramekin with butter.
Add the beans to a medium bowl. Gently mash until they are part smooth, part chunky. Reserve 2 tablespoons of onions, then stir the rest of the onion and the half and half into the beans.
Next stir in the garlic powder, cumin, salt, and pepper. Reserve 2 tablespoons of the Monterey jack and 1 tablespoon of the parmesan. Stir the remaining cheeses into the beans.
Place the baking dish on a baking sheet in case any dip spills over during baking. Transfer the bean dip to the baking dish. Top with the reserved cheeses then sprinkle with the reserved diced onion. Bake for 30 to 35 minutes until golden brown on top and bubbling.
Garnish with basil or parsley. Serve warm with baguette or crackers.