Roast Beef with Onion Relish on Focaccia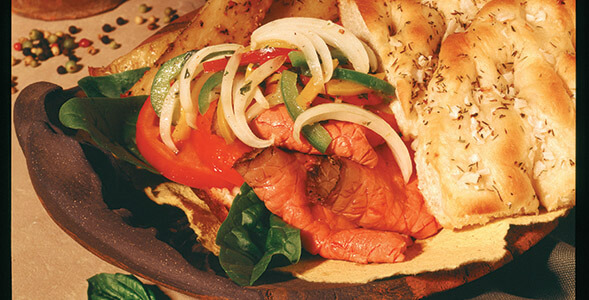 Description
The ultimate roast beef sandwich.
Ingredients
Onion Relish:
3 cups narrowly wedged white onions
2 cups julienne cut green, red and yellow bell peppers
1/2 cup Italian dressing
1/2 cup fresh chopped basil
1 teaspoon black pepper
Focaccia:
1-1/2 frozen wheat bread dough, thawed and soft
Olive oil
1/2 cup minced white onions
1 teaspoon dry thyme
8 ounces spinach leaves
2 tomatoes, sliced
2 pounds roast beef, sliced
Directions
For Onion Relish: toss onion wedges and julienne peppers with Italian dressing, basil and pepper. Marinate in refrigerator overnight.
For Focaccia: roll out dough to fit bottom of 15 x 10-inch pan. Place dough in oiled pan, oil top and set in warm place until it rises about 1-inch in pan. Oil top again and sprinkle with minced onions and thyme. Make impressions in dough about 1-inch apart. Bake on high rack at 400 degrees 16 to 20 minutes or until golden.
Cut 8 squares and split. Fill squares with spinach, tomatoes and roast beef. Top with onion relish.
Makes 8 servings.
Special notes
Recipe and image provided by the National Onion Association
Per serving: About 512 cal, 36 g pro, 57 g carb, 17 g fat, 29% cal from fat, 69 mg chol, 675 mg sod, 6 g fiber.