Slow Cooker 5 Onion Soup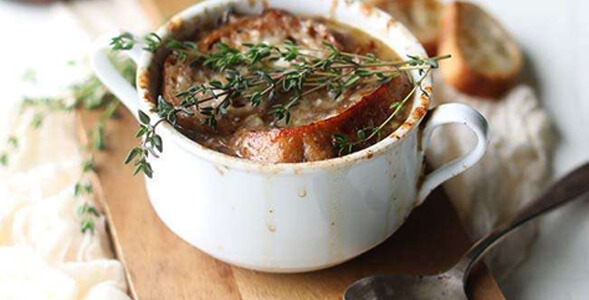 Description
There's nothing like a big savory bowl of soup covered with creamy, melted cheese and bread to make you feel like a real person while you're sick, if you're well, after a hard day's work or just because you want to be a little decadent and enjoy yourself.
Ingredients
4-6 lbs white, yellow, sweet and red onions, peeled and thinly sliced
3 Tablespoons olive or vegetable oil
salt and pepper, to taste
optional: 1 tablespoon of granulated sugar, 2 teaspoons of balsamic vinegar
1/2 cup cooking sherry or other dry, white wine
7 cups beef broth, low-sodium
1 Tbsp Worcestershire sauce
1 bay leaf
1 clove garlic, minced
4 sprigs fresh thyme (or 1 tsp dried)
1 Bay Leaf
8 slices dry french bread
3/4 cup Gruyere cheese, shredded
1/2 cup chives, for garnish
Yield: 8 servings
Directions
Transfer all of the thinly sliced onions to the slow cooker — the slow cooker should be half to three-quarters full. Cook for 5 hours on HIGH or 10 hours on LOW.
Stir occasionally, if possible — this will help them cook more evenly but is not necessary.
After 5-10 hours, the onions will be golden-brown and soft, and they will have released a lot of liquid. Remove onions to a large bowl and let cool.
If you like onions with a deeper color, continue cooking for another 3 to 5 hours on LOW. Leave the lid ajar so the liquid can evaporate. Check every hour and stop cooking whenever the onions look and taste good.
Stir sherry, Worcestershire sauce and beef broth into the remaining onions in the slow cooker bowl.
Add garlic, thyme, bay leaf and set on high for 4-6 hours OR low for 8-10 hours.
Discard bay leaf and ladle the soup into oven-safe bowls.
Top with dry bread slices and distribute Gruyere cheese evenly over each piece. Broil 2-3 minutes or until cheese is melted and browned.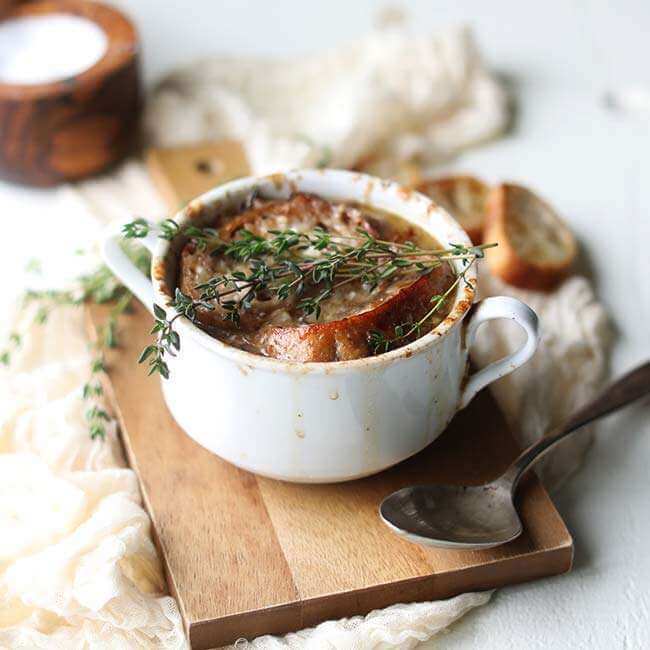 Recipe provided for the National Onion Association by chef and blogger Nikki Miller-Ka.
Special notes
(Plan ahead: Slow-cooked onions may be refrigerated for up to 3 days, or frozen for up to 3 months.)
*Per serving: 341 Calories, 18.7 g protein, 21 g fat, 25 g carbohydrates, 5 g fiber, 871 mg sodium.*