Teriyaki Grilled Skewers with Mango Dipping Sauce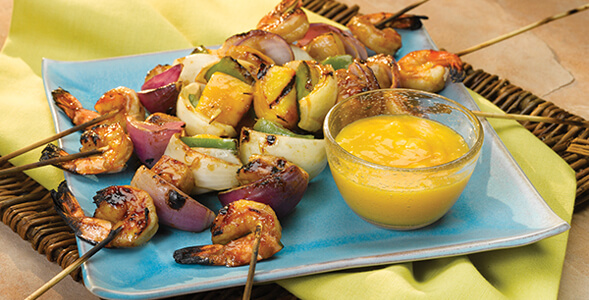 Ingredients
3/4 pound boneless, skinless chicken breast
1/2 cup olive oil
1/2 cup prepared mango chutney, chopped if coarse
1/2 cup bottled teriyaki sauce
2 tablespoons balsamic vinegar
18 medium shrimp, shelled and deveined (1/2 to 3/4 pound)*
18 large bamboo skewers (about 12 inches long)
1 medium yellow onion
1 medium red onion
2 firm-ripe mangos, peeled, pitted and cut into large cubes
1 large green bell pepper, halved, trimmed, seeded and cubed
Nonstick cooking spray, as needed
Ginger Mango Sauce (recipe follows)
Watercress (optional)
Serves: 4-6
Directions
Cut chicken into 1-1/2 to 2-inch cubes (yields about 18). For marinade, combine oil, chutney, teriyaki sauce and vinegar. Set aside half to use for basting. Place chicken and shrimp in wide, shallow glass dish or pan. Pour remaining marinade mixture over, then cover and marinate in refrigerator at least 3 hours or overnight. Soak bamboo skewers in water at least l hour before using.
Peel onions and trim off both ends. Cut each onion into six wedges, approximately 1/2-inch wide. Separate the wedges into double layers. To prepare kabobs, alternate chicken, onions, mango, green pepper, and shrimp onto soaked skewers, keeping them near the pointed end of each skewer, leaving a long "handle" of skewer open. Coat the grill grate with nonstick cooking spray. Place skewers over medium coals for 15 to 20 minutes. Brush often with remaining marinade mixture and turn skewers until cooked through. If needed, use spatula to gently loosen skewers before turning as they may stick.
Arrange on basket or platter with watercress as garnish. Serve with Ginger Mango Dipping Sauce. Makes 4 to 6 servings.
Ginger Mango Dipping Sauce: Combine pulp from l mango, halved, pitted and scooped out of skin (about 1 cup) with 1/4 cup frozen orange juice concentrate, 3 tablespoons water and 2 teaspoons grated fresh ginger root (or 1/2 teaspoon ground ginger) in electric blender. Puree until smooth. Makes about 1 cup.
*If preferred, omit shrimp and use 1 1/2 pounds boneless, skinless chicken breasts, cutting into 36 cubes and using 2 per skewer.
Alternate Broiler Method: If preferred, place kabobs in broiler pan coated with nonstick cooking spray and broil 3-inches from heat about 10 to 15 minutes or until done, basting and turning as needed.
Special notes
Per serving (based on 6 servings): 390 Calories; 10.7g Protein, 22g Fat, 40g Carbohydrates, 685mg Sodium, 3.6g Fiber